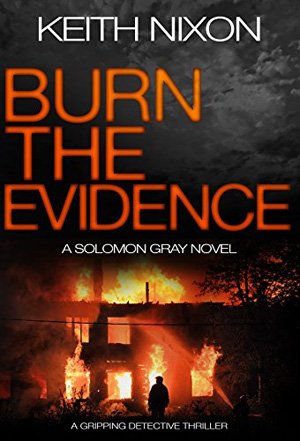 Written by Keith Nixon — Seedy, run down seaside towns offer a rich hunting ground for crime writers. Cathi Unsworth's Weirdo (set in the fictional Norfolk resort of Ernemouth) and Whitley Bay in Ann Cleeves' Vera series are just two examples. Keith Nixon has an affinity with the Margate area, as demonstrated in his Konstantin books and in the Solomon Gray series, which reaches book two in Burn the Evidence.
Police detective Gray is enjoying an afternoon of clay pigeon shooting with friend and colleague Jeff Carslake when an unexpected phone call sends him to Ramsgate beach, where a body has been washed up. The man is wearing a cheap life jacket and nearby is a punctured dingy – a refugee, perhaps? – they are becoming more and more commonplace on the Kent coast, so it seems likely. Then the tide ebbs further and two more bodies are revealed. One looks to be another unfortunate refugee, but this one has been stabbed, while the remaining victim is Regan Armitage, the son of a prominent Margate businessman. Suddenly, the case has taken a sinister turn, and reports of a third refugee running away from the scene make life even more complicated for the investigation team.
Gray is a local lad, and he has a history with Regan's dad, Jake. They went to school together and were mates in their teens but parted ways when Gray joined the police and Jake took a more crooked path. Ten years ago he was implicated in a suspected arson attack on one of his own properties, a seaside bed and breakfast called Sunset, in which two people died. Nothing was ever proved, but that fatal fire becomes a linchpin for all that follows.
As expected of a Keith Nixon book, there's plenty going on here, and Gray is sitting slap bang in the eye of the storm. We met him in Dig Two Graves (reviewed here) where I said there was little to like about the character. In truth Solomon has mellowed somewhat, but strangely I found myself missing his unpredictable side. This time Gray is more of a straight arrow, prone to introspection and, not surprisingly, still obsessed with the mysterious disappearance of his son, Tom, a decade ago.
Nixon's local knowledge of this area of Kent shines through, and you'll love the close-knit – bordering on claustrophobic – atmosphere that the author brings to the locations. He's also a dab hand at coining the offbeat character. This time we have William Noble, former editor of the defunct Thanet Echo, now proud owner of the Thanet's Voice blog, who's had past run-ins with Jake Armitage and has enough bees in his bonnet to populate a well-stocked hive. Unfortunately, some of the important characters feel peripheral and underdeveloped.
Nixon spends much of the book building up the tension, layering on the detail and developing the narrative – to such an extent that I was wondering whether we were going to be left hanging. The final reveal comes very late in proceedings and in something of a rush, with vital information bombarding you from all sides, so keep your wits about you.
Cogs are turning here and anyone who has read book one will be delighted to find a few things slotting into place, though Burn the Evidence is perfectly readable as a stand alone too. We're set up for another meeting with Gray and his team – will the loose ends finally be neatly tied off?
For more off-beat British crime writing try A Man With One of Those Faces by Caimh McDonnell or The Dead Don't Boogie by Douglas Skelton.
Bastei Entertainment
Kindle
£4.31
CFL Rating: 3 Stars