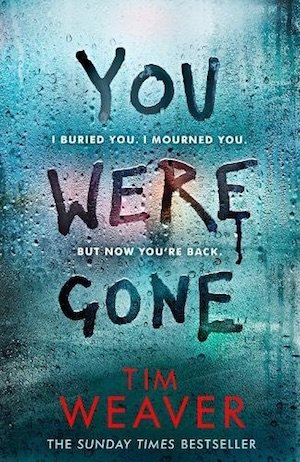 Written by Tim Weaver — David Raker searches for missing people, but what happens when he has to look for  someone who isn't missing at all? They're dead, in fact, and Raker is certain of that because the person in question is his late, much loved, greatly missed wife Derryn.
She died eight years ago after a long battle with cancer – so who on earth is the woman who has turned up at Charing Cross police station, claiming to be his wife? She certainly looks like Derryn, but she appears confused. As Raker watches from behind a one-way mirror, he hears the woman recount details only Derryn would know. She is sent to a refuge while further inquiries are made, but she never arrives. Where has the mysterious woman gone? Is she really Derryn? If so, who did Raker bury? Was there even a funeral? Is Raker losing his mind?
Raker has been around for nine books now, and we've reviewed The Dead Tracks and four other titles in the series. So how will a series newbie fare by jumping in blindly to book number nine? It will probably help if you have some background knowledge of the man and his previous cases because some of the back stories are lightly sketched in and may leave you wondering, but You Were Gone works pretty well as a standalone too, and having no prior knowledge is a bit of an advantage in some aspects of this book.
Because Raker's predicament turns him into the most unreliable of narrators and as you read you'll be continually debating the whys and wherefores, much like Raker himself. The police seem convinced that he has been holding his wife prisoner for the past eight years, an eminent psychologist maintains he treated Raker for Capgras delusion, where a person believes their husband, wife or child has been replaced by an exact replica and – worst of all – he can't find Deryn's death certificate. Is he going mad, or being played like a fish on a line?
You Were Gone is a densely plotted, gripping, eminently readable thriller that will take you to the edge of reason and back again. There's so much going on that there's barely chance to take a breath – but it's a good idea to pry the book out of your whitened fingertips occasionally, take stock of what's just happened and maybe talk to a real human being before plunging back into the maelstrom.
Raker is an enjoyable protagonist, even though he's a man who really doesn't know if he's coming or going. That confusion threatens to overwhelm, but once he begins to treat the conundrum like one of his missing persons cases, all manner of horrors come out of the woodwork until he receives help from a most unexpected source. The main narrative is interspersed with passages from the journal of an unnamed person, someone whose scribings get more and more unhinged as the plot thickens. Who is the writer and can their ramblings be trusted?
Weaver is well named as he can certainly weave a tale, and we interviewed him back in the early days of the site. Fans of the Raker series will know all about 'Bryan Kennedy' and his connections to the central character, but at the end of You Were Gone there's a hint that things are about to come to a head with that particular plot strand. So it looks like book 10 is on the horizon, which is great for fans. For the newbies, maybe time to go back to the start with Chasing the Dead?
Love an unreliable narrator? Take a gander at The Woman in the Window by AJ Finn, or catch up with Gillian Flynn's Gone Girl.
Michael Joseph
Print/Kindle/iBook
£3.99
CFL Rating: 4 Stars