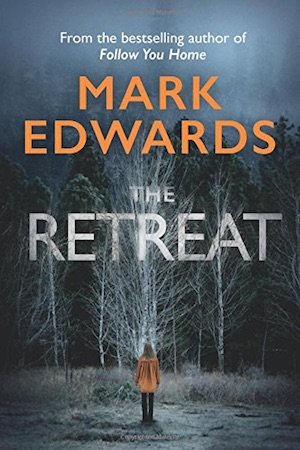 Written by Mark Edwards — The writers' retreat, or any kind of retreat for that matter, is an ideal setting for a crime novel. Spend a week cooped up with strangers in an unfamiliar environment exposed to their irks, quirks and egos, and anyone might start harbouring murderous thoughts. When you add a creaky old house, people with traumatic pasts, and writers with a keen imagination to the mix, you can expect something explosive. Mark Edwards' latest standalone novel certainly delivers explosions, but they are well controlled by the author and used judiciously throughout the story.
Lucas Radcliffe is a horror author who's only just got to feel the sweet taste of success with his most recent book. He is now struggling to meet the deadline for the next one and goes on a writing retreat in North Wales, close to the area where he was born, so he can focus on his novel. Almost as soon as he arrives on the doorstep of the rambling old house he meets the sad and lonely owner, Julia, and is distracted from his project.
Julia lost her husband and daughter in a tragic accident two years ago. Because her little girl's body was never found, she refuses to believe the child is dead and blames the police for giving up on the case too soon. Lucas, who feels slightly guilty that his own books deal with kidnappings and deaths, decides to help Julia by hiring a private investigator. Concurrently, strange things start happening at the house, making the motley collection of authors panic. Even Lucas, a staunch sceptic, starts to doubt his recollection of events. Besides, Lucas himself is no stranger to tragedy, and this might be altering his normally clear-eyed perception.
The Retreat is a pageturner that must be devoured in as few sittings as possible order to get the maximum benefit from the increasingly claustrophobic and sinister atmosphere. Yet there are some lighter moments too. There is much fun to be had via the other writers on the retreat, with their squabbles and rivalries. They are all somewhat typical of the publishing industry and include the self-published author, the newbie and the pretentious literary writer who looks down on Lucas. Yet Edwards shows us that first impressions are misleading even with these apparently stock characters.
The local villagers are also delightfully eccentric, recognisable yet complex, harbouring their own secrets, often gruff and unwilling to talk. Some of them remember Lucas' parents and his own story becomes interwoven with the history of the village. There does seem to be a trend recently in both books and film to explore how urban myths and local superstitions can cause trouble or even provoke mass hysteria, and this is certainly one appealing aspect of the book. Supernatural elements in crime fiction are criticised by some purists, but this novel has a very interesting way of handling them.
The Retreat could do with less romance, which doesn't add much to the story when it occurs. Perhaps it could have been left to the end. There's lots of foreshadowing too, leaving you far ahead of Lucas' deductions. Having to wait for him to catch up makes it feel repetitive, resulting in a story that sags in the middle. Yet, overall, this is certainly no cosy crime novel, and the moments of suspense are nicely blended with folklore and local legends to create a sinister sense of unease.
For other novels set at least partially at writers' retreats or conferences, see Exquisite by Sarah Stovell or, for a more humorous take on the topic, Invitation to Die by Helen Smith.
Thomas & Mercer
Print/Kindle/iBook
£3.98
CFL Rating: 3 Stars