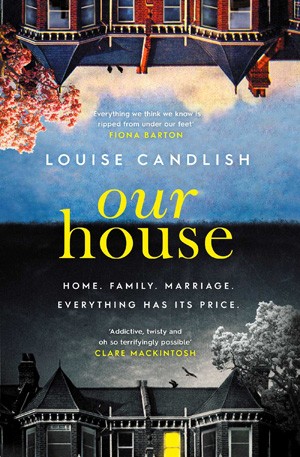 "Oh what a tangled web we weave, when first we practice to deceive…" The quote from Sir Walter Scott sums this book up perfectly, and there's so much going on that you'll soon be held tightly in its clutches.
It all starts so innocently, with a happy couple moving into their new home in the posh London suburb of Alder Rise. The wife is directing operations at their new address, while her husband keeps the movers on the straight and narrow at their old home. All is going well, until an hysterical woman arrives in the doorstep. It's Fi Lawson. 91 Trinity Avenue has been her home for years and as far as she knew, it still was. What the hell is going on? Who are these people? Where is her furniture? And – most important of all – where is her husband, Bram?
The answer to that final one is soon revealed to us, because this story is told from two perspectives – that of Fi, mainly via the transcript of a popular TV programme called The Victim, and also by Bram, who is in Geneva and setting down his version of events in a Word document, prior to committing suicide. The whys and wherefores take a lot longer to unravel, with some of the revelations bordering upon the laughable. There are so many tricksy little reveals pepper-sprayed around the book that you'll have your work cut out keeping everything in order. It wouldn't be cool to to reveal any details here and spoil all the fun but in a plot this convoluted you'll most likely spot a few loose ends… or maybe you've just missed something in the bombardment of information the author throws at us.
Our House is perfect TV material, featuring as it does a well-to-do couple who appear to have everything, but who let it all slip through their hands as we look on from the sidelines. Trouble is, it's difficult to warm to either Fi or Bram and judging by the social media comments scattered throughout Fi's side of the story, we're not alone. Those little #victimfi snippets are well used by the author and you'll find yourself eagerly awaiting each batch.
The Lawsons are a family who put much store on keeping up appearances. From the outside, their lives are pretty near perfect, but take a closer look at that happy portrait and you'll spot the paint is cracking and worn. Both Fi and Bram have their secrets but the gradual revelation of their true characters do little to endear them to you. The final twist, when it comes, feels hugely satisfying.
Louise Candlish, the author of 11 novels, is a dab hand at making her characters come alive – but you don't have to like them, do you? Her depiction of the fictional Alder Rise, a suburb which is on the up and up with property prices going through the roof, is so realistic you can almost smell the freshly brewed organically-grown coffee. Fi and her neighbours make a neat little coven, sipping prosecco while decrying their husbands and setting their little world to rights. Those 'girlie' scenes are particularly well portrayed.
So, a standalone that is entertaining if a little disjointed – perfect fare for the summer holiday sun bed. And if, like me, the title gives you a Madness earworm, just take a sip of that cocktail and ignore it.
Looking for more dysfunctional families? Why not try From the Cradle by Louise Voss and Mark Edwards, or Alex Marwood's The Darkest Secret.
Simon & Schuster
Print/Kindle/iBook
£4.99
CFL Rating: 3 Stars