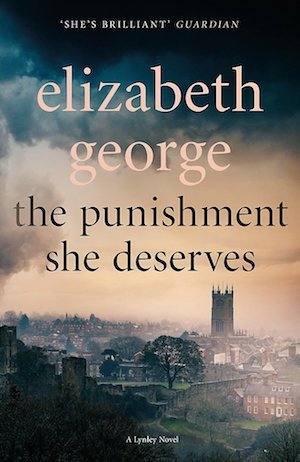 Written by Elizabeth George — Since 1988, American author Elizabeth George has been creating her own little bit of England, populated by DI Thomas 'Tommy' Lynley and his trusty sidekick DS Barbara Havers of London's Metropolitan Police. They've even had their own TV series, with Nathaniel Parker perfect as the aristocratic Lynley (he's known as the 8th Earl of Asherton when he's not being a copper), and Sharon Small not so on the money as the dowdy, down to earth Havers. Together they create a Downton Abbey of crime fighters, if you will.
It's a mix that has attracted hordes of adoring fans and the books are shoo-in best sellers – and rightly so, if the latest instalment is anything to go by. The Punishment She Deserves is the 20th to feature Lynley and Havers. However, at the start and for about a third of the novel, they are apart. There's been a death in custody in Ludlow, an historic town under the jurisdiction of West Mercia, and the Met has been tasked with undertaking an independent inquiry. This means Det Chief Supt Isabelle Ardery is about to leave town and Havers is going with her.
There's a reluctance on both parts. Ardery has no time for Havers and her unorthodox methods. In fact, Havers still has the threat of a transfer to Berwick upon Tweed hanging over her head. Ardery is in the middle of negotiating the custody of her twin sons, who, unless she can sort things pretty sharpish, are about to go off and live with their father in New Zealand.
Havers also has plenty on her plate – not least her tap dancing classes with boss's secretary Dorothea Harriman and their upcoming showcase in which she's expected to put in a performance to rival Ginger Rogers. Yes, Barbara Havers and Ginger Rogers in the same sentence, I never thought I'd see the day either. She dutifully takes her tap shoes along to Shropshire, but it's soon clear that Ardery is dancing to a different tune. She is hoping Havers is about to fail, and offer a gilt-edged excuse for that threatened transfer.
Fans of this series are used to the relationship between Lynley and Havers, so it's a masterstroke to split up the pair and what ensues is both entertaining and frustrating in equal measure. The death in custody seems like an open and shut case of suicide and Ardery is content to go through the motions, complete their investigation and high-tail it off back to the Smoke. But Havers is more circumspect. Her gut tells her something is off, and if the DCS won't listen, then of course she's going to share her concerns with Lynley, isn't she?
When their investigation finally finishes, the pair return to base. But something that Havers uncovered is about to set the cat among the pigeons and soon she's back on the road to Ludlow, this time in the company of Lynley. Now the investigating can really start…
The man who died was a deacon at the local church and no one appears to have a bad word to say about him. Except, that is, for the person who made an anonymous phone call accusing Ian Druitt of being a paedophile. Was that enough to push him over the edge? His father is adamant that his son was squeaky clean and would never have killed himself, and he is a personal friend of a prominent MP who is making waves in the Home Office. Now the pressure is really on to get to the truth. Running parallel to the investigation strand are plot lines concerning the PCSO who brought Druitt into custody and subsequently found him dead, and a group of students who attend the nearby college. On the surface they are all fun-loving, hard-drinking young people, but what lies below the surface could have a huge influence on this case.
This book may be long but at no time does it feel long-winded. Instead, it gradually submerges you into the lives of those who inhabit its pages and although you are left wondering for a long, long time, when the pieces begin to fall into place the final picture is a hugely satisfying one. The settings are lushly rendered and if you've never been to Ludlow and its surrounding areas, then you're likely to want to make a visit after reading The Punishment She Deserves. This American author certainly knows how to create an air of authentic Britishness. It's just a pity that the odd bit of US English survived the edits. This is certainly not a quick read but if you've the time and the stamina it's well worth the effort.
If you like Lynley's style you might also like PD James' Adam Dalgliesh, or the mismatched pairing of Jordan and Hill in Val McDermid's books.
Hodder & Stoughton
Print/Kindle/iBook
£9.99
CFL Rating: 4 Stars