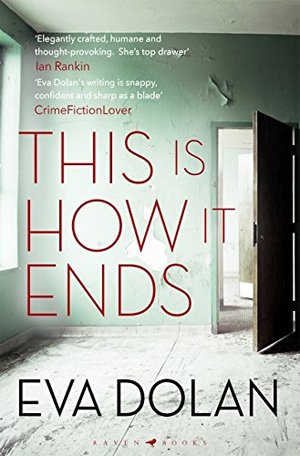 Written by Eva Dolan — "Eva Dolan nails it." There. That's the review. It's all you need to know about this book.
Sorry? What? Yeah, OK, I guess you're right. I should make more of an effort here. And I will. However, what I said is true. Just buy this book and read it. You might not see another British noir thriller this good for a long time to come.
So, what is it that Eva Dolan nails? Well, the storytelling, characterisation and above all timing of this book are all… um… totally nailed. This is an author one step ahead of the early adopter crime readers out there, of social issues, of publishers and of her fans. It all starts off like a crime novel should – with a body. He's lying with a smashed head at Ella's feet in an abandoned flat by the Thames in some vague part of West London. Soon, Molly is there too and the pair of them are hefting the dead guy into the lift shaft to plummet down a few floors and land with a dull thud.
Their evil deeds more or less done, we can enjoy the rest of the novel as it unpicks these two feminist antiheroes. Molly is a photographer deeply involved in the protest movement since Greenham Common, where the US Airforce deployed cruise missiles in the 1980s, and where a women's camp was set up to oppose this. She lives in the block of flats where the body was disposed of and knows Ella, who is much younger, via much more recent protests. They're both fighting the imminent demolition of the block for redevelopment and Ella has been campaigning on the ground and online to help save the building. She even squats there sometimes. The ruthless developers have bought off all but a handful of the inhabitants, so good luck with that one.
This Is How It Ends is infused with issues surrounding social justice via these characters, their friends and associates. The big sell-off of London's social housing is central but everything from zero-hours contracts through to the Miners' Strike seems to get a mention. The backstory plays out in flashbacks and we see Ella's rise within the movement as she receives a broken arm when penetrating the police line at a housing demo, becomes a blogger and social media star, and later steps up to direct action, narrowly escaping jail. You might sympathise with their aims, but there's nothing gentle in the way the author portrays the movement. Their words and actions are captured in full-on raging, vitriolic glory. As are the gnashing riot cops and steamed-up real estate moguls they protect.
Molly is like a second mother to Ella, who seems dominated by the men in her life. Her father, a high-ranking policeman in Co Durham, wanted her to be a copper but she's doing the opposite. Her squeeze, Dylan, seems to control her, demanding rendezvous in random hotels and dead jealous of Molly. Her compatriot, Quinn, now hates her after being imprisoned for arson while she beat the rap. Her tormentor, Pearce, is the reason she dropped out of police college and turned her back on Daddy's dreams. The question is, who's the dead guy and was it really self-defence?
You won't be able to put this book down as the tension builds between Molly and Ella. Almost immediately, Molly realises she's being kept in the dark about this man, and maybe more. She starts to think they should have called the police in the first place. But the police would love to take down a high-profile troublemaker like Ella. Maybe Ella is just a bit mixed up and the dead man did try to rape her, so he got what was coming to him. The thing is, now Molly feels like she's getting what's coming to her. Not even the attention she gets from the building's caretaker, Callum, can take her mind off it.
There are so many delectable am-I-wrong-to-think-this? moments here it's unreal. It's like the scene in The Talented Mr Ripley when Philip Seymour Hoffman's character has figured out Dickie's demise, but you're actually rooting for Ripley to get away. What secrets these two sisters on the protest line hold, and whose are worse, it is genuinely hard to say. I think you might side with one of them, but I won't say which.
Eva Dolan will like that reference to The Talented Mr Ripley because Patricia Highsmith is one of her biggest influences. This book can easily sit alongside Highsmith, but what's more it gives us up-to-date characters, the real London, and an interrogation of issues from the housing crisis to police corruption and on to urban loneliness – all in 4K resolution.
So, Eva Dolan nails it.
Ruinous redevelopment projects also feature in similarly themed The Watcher by Ross Armstrong. Eva Dolan also writes a series of police procedurals set in Peterborough.
Raven Books
Print/Kindle/iBook
£3.47
CFL Rating: 5 Stars