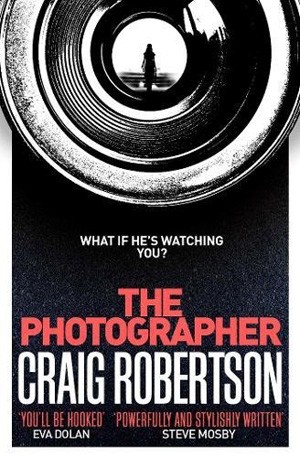 Written by Craig Robertson — Some book titles are a little off-putting, some are even a trifle dull, while others may seem a bit cryptic. Craig Robertson's The Photographer has an eye-catching cover that reminded me of movie posters of the 1960s and 70s. And, yes, it's about a photographer – two in fact.
Former scene of crimes snapper Tony Winter now works as a photojournalist for a Glasgow daily tabloid. He's the partner of DI Rachel Narey and father to their nine-month-old daughter, Alanna. But he's not the photographer of the title, oh no – that dubious honour belongs to William Michael Broome.
Broome is a successful Glasgow businessman and a misogynist who is unmasked as a violent rapist when one of his terrified victims comes forward and agrees to testify in court. Narey assures Leah Watts that her attacker will soon be behind bars. Then the case falls apart, Broome walks free, and a living nightmare begins for Leah and Narey.
Internet trolls begin a campaign against Narey, threatening her and her baby, while Leah's anonymity is blown when her name is shared via Twitter. Can things get any worse? Well, yes, they can. One of the reasons the Broome case collapsed was that a cache of photos found in his flat was judged inadmissible evidence. There were hundreds of the candid shots of unidentified women, captured around Glasgow. All of them were unaware their photo was being taken. It's a huge invasion of privacy and smacks of stalking on a grand scale, but once the judgment is made, the police are forced to destroy every image, in both digital and hard copy form.
Then Winter receives a mysterious, anonymous package at work. He's now the possessor of a full set of Broome's photographs… but what's he going to do with them? His actions, and those of the people he holds dear, are at the heart of this intricately plotted tale. Narey and Winter are both good at their jobs, but when they're home they try to leave work at the door. Not easy when the story you're working on has huge implications for the woman you love, but Winter is nothing if not resourceful and he is soon on the trail of the mystery women captured on film by Broome. Meanwhile, Narey has Broome in her sights too, but he's a slippery character and seems to hold all the aces. Then Leah goes missing and Narey has an inkling of just where she might be found…
Scottish crime fiction author Craig Robertson has created a tricksy narrative which is scattered with dead ends and red herrings. Not content with letting Winter and Narey take centre stage, there are myriad other plot strands to keep you on your toes, from social media trolling to dysfunctional family ties. We all know Broome is a nasty piece of work, but whether he'll get his comeuppance is another matter entirely. Best to let The Photographer pull you along like a piece of driftwood in a swollen stream.
We commend Robertson for taking the latest in modern phenomena and turning them into entertaining crime writing. Murderabilia went deep into the Dark Web, while In Place of Death explored urbexing. This time we're in the realms of cyber stalking and trolling and what you read here may have you reassessing your internet security measures.
This is a novel very much of the 21st century and it hits the mark solidly. It has flashes of police procedural, dashes of psychological thriller and a twisty-turny plot that hooks the interest and holds it firmly to the end. The aforementioned Murderabilia still holds first place in my Narey and Winter charts, but The Photographer comes a close second.
Looking for more crime fiction set in Glasgow? Try Every Night I Dream of Hell by Malcolm Mackay or Douglas Skelton's The Dead Don't Boogie.
Simon & Schuster
Print/Kindle/iBook
£3.99
CFL Rating: 4 Stars