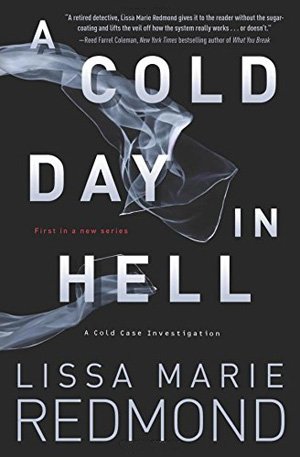 Written by Lissa Marie Redmond — It'd be a cold day in hell before Buffalo PD Detective Lauren Riley would work for the 'other side' and help out her most detested courtroom adversary, lawyer Frank Violanti. They've had more than a few moments of conflict in court but now Frank wants to bury the hatchet and beg five minutes of her time. What he tells a reluctant Lauren is enough to make her stop and think.
She may work cold cases, but Lauren also holds her private investigator licence, and it's the latter which brings Violanti to her door. His 18-year-old godson, David Spencer, is accused of the murder of Katherine Vine, mother of two and the wife of prominent local businessman Anthony Vine. David is pleading innocence and Violante believes him – but can they convince Lauren and, ultimately, a judge and jury?
As a former cold case officer herself, with Buffalo, New York police department, no less, Lissa Marie Redmond knows exactly what she's writing about. The sneaky insights into how modern day policing works are illuminating and, at times, bloody frustrating too as Lauren comes up against barrier after barrier in her search for the truth in the Spencer case. David is a young, handsome man who admits to having had rough sex with Katherine Vine in her car as it stood in the car park behind his place of work. He maintains she was alive and well when he left her. So, who else could have committed murder and what was their motive?
While working for the 'dark side' in her downtime, Lauren also has her day job to keep her busy and we follow her and her partner, Reese, as they work the unsolved 1993 murder of a young woman. It's a much more straightforward investigation, but like the central character, you'll need your wits about you to keep all the balls in the air as debut author Redmond juggles a police procedural with a taut courtroom drama. These two aspects largely work well, although I found the scenes in court the more compelling.
Lauren Riley is an interesting linchpin here, with baggage to rival a Louis Vuitton sales rep. She's a tough, capable woman and an experienced police officer, who's brought up two daughters largely alone. With two ex-husbands (one of whom hit her, the other a cheat) and an abusive ex-boyfriend, you'd perhaps expect her to be the cautious type, but no – Lauren favours the rush-in-where-angels-fear-to-tread approach – and as Crime Fiction Lovers know only too well, it's bound to get her in deep trouble.
One of the ex-husbands and the aforementioned ex-boyfriend are still on the scene, and both have a part to play in this story. While one of the men is offering a second chance at romance – something that's hugely tempting to a woman who has been on her own for too long – the other has more sinister plans, and his unhinged actions are a strangely off-key note in a book which hits the mark well in so many other areas.
This is an assured first novel from an author who has managed to translate her insider knowledge into a relatable plot line that will carry you along nicely. I enjoyed the small-town atmosphere, the sharply rendered cast of characters and the depiction of the widely differing working relationships between Lauren and Violanti, and Lauren and Reese. A Cold Day in Hell is the first in the Cold Case Investigation series and I'm intrigued to see what will come next.
For more courtroom drama try From the Shadows by Neil White or Anatomy of A Scandal, which we reviewed recently.
Midnight Ink
Print/Kindle
£10.28
CFL Rating: 3 Stars