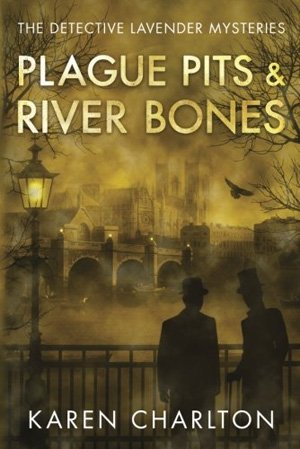 Written by Karen Charlton — These days, my crime fiction world tends to be filled with psychological thrillers and domestic noir, the majority of which seem to be wrapped in covers of aqua blue and yellow. It's good to break free of the mould occasionally and try something a little different. Historical crime fiction is a popular sub-genre with many, but some of the books within it tend towards the academic, filled with historical detail which stifles the plot and can bog down the reader in the process.
Not so Karen Charlton, now on her fourth Detective Lavender mystery. This former teacher knows how to engage without appearing too studious about it. Yes, her books are the result of tons of historical research, but her characters are living, breathing entities. Many of them based upon real life historical figures and their adventures will keep you gripped from beginning to end.
I've been lucky enough to follow Charlton's writing journey from the first Lavender book, The Missing Heiress, which has been republished and retitled as The Duchess of Linn Hagh, and Plague Pits & River Bones is the best in the series so far. The year is 1812 and Detective Stephen Lavender, a principal officer with the Bow Street Office Police in London has been away for two weeks, solving a case of arson in the provinces. He returns to headquarters to find the place in chaos. The station is being extended and to meet the cost Lavender's boss, Magistrate Read, is deploying his principal officers far and wide on well-paid assignments. Meanwhile, the city's rich inhabitants are being targeted by a gang of villainous highway robbers and Lavender is soon on the case. But first, he must deal with a mystery on his own doorstep – the Liverpudlian builders working on the Bow Street extension are perturbed when they uncover skeletal remains. Murder most foul? Or is there a simpler answer?
Several story strands develop as this book progresses, interweaving in a variety of intricate and cleverly conceived patterns, keeping us entertained – and, in my case, sneakily educated – as we go along. It is particularly enjoyable to follow the police procedure of the time. Just think – no internet, no mobile phones! With pathology in its infancy and nothing more hi-tech than a bit of good, old fashioned intuition, Lavender and his trusty sidekick, Constable Ned Woods of the horse patrol, must take on their toughest adversary yet – the shadowy Nidal, who is up to all manner of nefarious deeds in London and its environs.
Over the four books Lavender has fallen in love with and married Magdelena, the glamorous Spaniard who escaped from her native country by shooting her way to freedom. She still carries a pistol in her boot, and she has an important part to play here. The addition of this Catholic señora gives the tale added spice and a hint of poignancy, and her friend Lady Caroline Clare is another finely drawn, hugely entertaining woman character.
Prepare for rip-roaring adventure, interspersed with family dramas and edge-of-the seat thrills and spills. Charlton brings Regency London vividly to life and puts her reader right in the heart of the action. The period is revealed in all its glory, from sparkling jewels and dazzling gowns to streets filled with horse dung and shadowy goings-on along the river Thames itself. If, like me, your historical knowledge is sketchy, then you'll enjoy finding out how much of this story is based on truth.
The book ends with surprising news that is bound to bring dramatic changes to the Lavender household. Can't wait to continue my growing friendship with the detective and his trusty wingman, Woods.
If you're looking for more historical crime fiction set in the UK, try A Death at Fountains Abbey by Antonia Hodgeson, or Soot by Andrew Martin.
Thomas & Mercer
Print/Kindle/iBook
£3.98
CFL Rating: 5 Stars