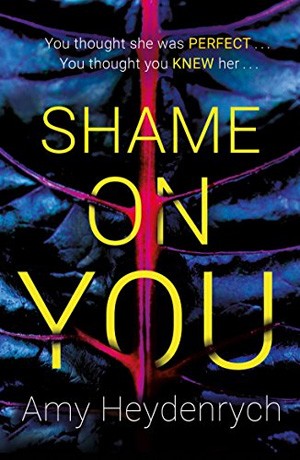 Written by Amy Heydenrych — Social media. We can't live without it these days, no matter how much we'd like to. Love it or hate it, our lives are played out on Facebook, Twitter, Snapchat and Instagram feeds.
For some, garnering likes is the be all and end all – we've even got a US president whose Twitter feed regularly makes headlines. Vloggers and bloggers are treated as celebrities, and, in Shame on You, Holly Evans is one of their number. She's gathered a huge following with her blog on clean living and healthy eating. A cancer survivor, Holly has turned her Instagram feed into a money-spinning business. She's published a best-selling cookbook and is recognised everywhere she goes. Not bad for a girl who used to sell women's clothing at Top Shop.
So when a dishevelled blonde woman stumbles into a London branch of McDonalds, before collapsing on the floor, covered in blood, it is no surprise that the cameraphones begin snapping photos and snatching video clips. It's Holly, her face slashed, muttering something about a man who knew her.
The attack raises her profile even further as the support of her faithful followers and the public at large swells. Holly should be riding the crest of a tsunami of digital love, but instead she's a quivering wreck. If the charming stranger who attacked her says he knows her, just WHAT does he know? It's the first alarm bell in a book that contains a veritable carillon of them.
We may all edit our online personas a little, using filters and careful editing, but how far is too far? Centimetre by agonising centimetre, the veil is pulled back, revealing the truth of the matter. Prepare for a yoyo of emotions as you run the gamut of sympathy, disgust, hatred and maybe even a little sneaking admiration for Holly – and also for Tyler, her attacker, whose story plays out as a counterpoint to our social media star's dramatic fall from grace. Neither character comes out of this well as the narrative seesaws between the two, and also between present and past.
Tyler is a surgeon who delights in helping to save people, so what made him turn against Holly in such a violent fashion? The more we learn about this apparently charming, hard working, talented man, the less clear-cut his reasoning appears.
This is a book that probes the modern-day cult of celebrity and finds very little to shout about. It also boasts a range of desperately unlikeable characters, all of whom have something nasty to hide and there are times when you may actually find yourself hating all of them. It's the dangling hope of something good around the corner that will keep you reading, though whether you're likely find it or not I'm not prepared to say.
Back in the day, poison pen letters were a useful plot device in the crime writing armoury; nowadays there are much more hi-tech ways of getting the message across. Perhaps Stieg Larsson started it all with his hacker Lisbeth Salander. More recent books such as Chris Carter's The Caller, The Steel Kiss by Jeffery Deaver and Friend Request by Laura Marshall have all used modern technology to devastating effect, tapping a rich vein of dirty deeds with a modern twist. Not so with this debut by South African author and book blogger Amy Heydenrych. I was excited by the premise behind Shame on You, but in truth I found it rather predictable and colour-by-numbers.
Shame on You is out 14 December for Kindle, with a print version due in 2018.
Twenty7 Books
Kindle
£4.07
CFL Rating: 3 Stars