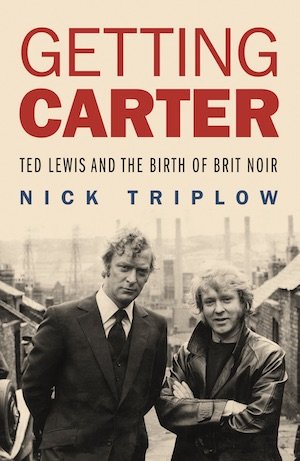 Written by Nick Triplow — Meticulous and thorough detective work is at the heart of this compelling and detailed biography of Ted Lewis, the Humberside author of nine novels, who was a huge influence on Brit Noir and remains so for leading names in crime fiction today.
Among those who admire and are inspired by Lewis's pioneering writing are David Peace, author of the Red Riding Quartet, Stuart Neville who acknowledges Lewis here, Jake Arnott, and of course novelist and social historian Nick Triplow, who has spent 10 years researching this biography.
He spoke to Lewis's contemporaries and tracked down documents to unravel some of the mysteries of the author's life, and in doing so has written a fascinating social history of post-war north of England and London of the 1960s at the same time.
Triplow says, in his comprehensive study of Lewis's short and self destructive life, that his breakthrough novel Jack's Return Home, on which director Mike Hodge's 1971 groundbreaking gangster movie Get Carter was based, is the greatest British crime novel of its era and the place where British Noir begins.
He investigates how the book was born through the telling of Lewis's life growing up in grim post-war Barton-upon-Humber, an insular and claustrophobic market town in Lincolnshire. Lewis had an uneasy relationship with his father and was emotionally scarred after being slapped across the face by his headmaster, at Barton Grammar School, causing him to wet himself. He was a keen reader of glossy and gratuitously violent American comics featuring gangsters and hard-bitten detectives, pulp fiction and film and soon began writing his own revenge-filled stories. Hemingway, Steinbeck and Chandler were favourite authors. He smoked and drank heavily from adolescence and his good looks made him irresistible to girls.
He escaped across the river to the bohemian lights of Hull College of Arts and Crafts to study on the National Diploma of Design course, where he used his storytelling skills to tell girls of how he faced imminent death from a weak heart and they fell for it. It was then he began playing piano with the Unity Jazz Band. There's a photo of him aged 19 in 1959 playing with a cigarette dangling from his lips looking "utterly shagged out".
He later played jazz piano in the drinking dens of 1960s Soho when he worked in London as an artist, first in advertising. Leaving advertising in 1966, Lewis worked on the cartoon of The Lone Ranger and later on the clean-up team of the animated Beatles' film Yellow Submarine. He had plenty of breaks that were broken by his extreme alcohol addiction. At this time he fell properly in love and married the spirited Jo Roome. They had two daughters. His first novel, All the Way Home and All the Night Through, is a version of his meeting with Jo.
Lewis was always drawn to danger; apart from being a fan of hardboiled American films and pulp fiction, he was fascinated by being on the fringe of the criminal underworld that frequented London bars. His second novel, Jack's Return Home is a hard-hitting and brutal story of ruthless gangster Jack Carter's revenge when he travels home to Lincolnshire. He based this in Scunthorpe, the gritty steel town not far from Barton, though this was transferred to Newcastle for the film Get Carter and star Michael Caine is a Londoner.
The novel came at a time when gangsters had been hitting the headlines following the high profile trials of the Kray twins and the Richardsons, and there was huge public interest. It was good timing for the film too and he sold the rights to MGM. It appealed to producer Michael Klinger who was on the look out for a homegrown, edgy thriller.
Lewis returned to the character of Jack Carter in two further novels, the underwhelming Jack Carter's Law (1974) and Jack Carter and the Mafia Pigeon (1977).
Lewis is a flawed, damaged and contradictory man. Those who knew him, loved, admired or loathed him, describe him as variously conservative and dapper, naturally shy but a successful and ruthless womaniser, an accomplished liar, moody, one who loved to hold court and be the centre of attention, and an unpredictable drunk.
When his marriage ended he crashed and burned, returning to stay with his mother in Humberside until he drank himself to death aged 42 in 1982. Two years before his death he managed to write his last book, GBH, described by Triplow as the last great crime novel of the 1970s.
Lewis attained cult status in America and his books are still admired and followed in France. It is time for him to be rediscovered in Britain and this enthralling biography should bring him back into the limelight.
Ted Lewis is a key focus at Hull Noir in November when Nick Triplow will discuss Lewis further. You can read our review of Triplow's novel Frank's Wild Years here.
No Exit Press
Print/Kindle/iBook
£11.76
CFL Rating: 5 Stars