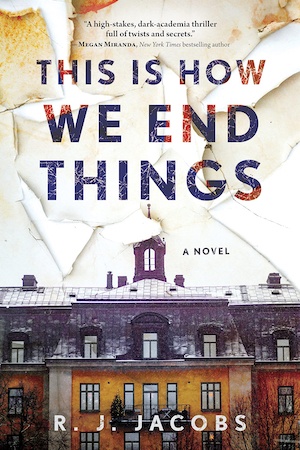 The Breakfast Club meets The Secret History in mystery author RJ Jacobs' new dark academia thriller. This is How We End Things, like Donna Tartt's The Secret History, takes place on an American college campus. In this case, it's the fictional Hampden College in Shepard, North Carolina. Apart from being a campus novel, it also has the characteristics of a classic closed circle mystery.
Five graduate students have been gathered by Professor Joe Lyons – a rock star in the world of psychology – to discuss lying and how people react to it. It's interesting subject matter, but what if the people who have become skilled at detecting lies use their research to conceal their own secrets? Lyons' methods are questionable, and his desire to achieve results by any means necessary, often while concealing his methodology, hasn't helped the psychology department's reputation.
Veronica, a first-year law student, is brought in for her legal background to ensure the research is above board, but she has a history with the seemingly perfect Elizabeth. Elizabeth, in turn, is quite unlikeable and has been having an affair with married Joe Lyons. Despite their efforts to conceal it, the rest of the team is well aware of their transgression.
If there's a leader in the department it's Robert, the senior among them and a smart aleck who resembles Clark Kent. He's also close to Scarlett, who is divorced from Mark and has a six-year-old daughter. Scarlett is liked and trusted by everyone in the group, but we learn that she's a thief. Unlikely pair Chris and Britt have been friends since they were young, but they've never revealed their common bond to others.
When Tom, a subject in one of the research experiments, becomes agitated and violent, the five students start to question whether the necessary precautions have been taken to protect everyone involved. Then, just as a snowstorm traps everyone on a deserted campus, one of their number is discovered dead.
Tom seems the obvious suspect but to investigating detective Alana Larson the inability to control his emotions doesn't make him a killer. Tom did have an unhealthy obsession with the victim, but anyone could have done it and they have all become experts in deception.
Larson moved to Shepard to get away from the stress of police work in the city. Her past cases have been primarily drug-related, theft or driving under the influence. She's not used to investigating murders. Her fellow officer, Patrick King, has been on campus for 20 years and has never seen a crime of this magnitude.
One character goes unnamed, and his ominous presence creates a pervasive tension throughout. The novel begins with a conversation between a psychiatrist and a patient, in which the latter describes violent behaviour, including murder. The patient's privacy has to be protected, which puts the psychiatrist in a precarious position. It becomes obvious that this person has been capable of murder from a young age and is very likely the murderer. We only realise this as the story unfolds, but we're never sure who they might be.
Along with this uncertainty, the author liberally sows distrust with the reader. Characters become suspicious of one other and we as go from one character to the next, we become convinced that he or she is the killer, only to change our opinion a chapter or two on. The psychological mind games that the characters and author play with us are what make this thriller so compelling. RJ Jacobs is after all a psychologist, and it appears he has a wealth of material to work with.
The bleak and desolate setting Jacobs creates is perfect for this kind of mystery. While a heavy winter storm is approaching, a killer stalks his next victim – and there's no way out for the potential victims. This premise has been done to death (pun intended) with varying degrees of success. Often, writers place too much emphasis on the setting. That's important, but it falls flat without a strong plot to propel it forward. This certainly isn't the case here. This is How We End Things is an enjoyable read, with plenty of red herrings to keep you guessing – and isn't that what we want from a good mystery?
One of the best campus-based novels of the last year is The Shards by Bret Easton Ellis.
Source Books
Kindle/Print/iBook
£9.19
CFL Rating: 4 Stars
Using these associate/affiliate links helps support our site.