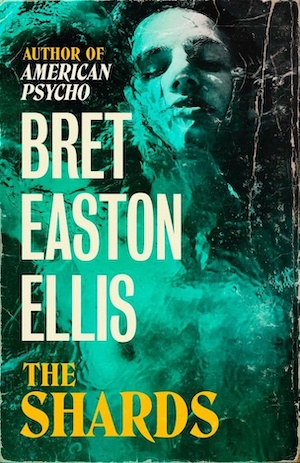 Infamous for his 1991 novel American Psycho, which pushed psychopathic depravity to new literary depths, Bret Easton Ellis is a controversial author whose work has inspired, or at least informed, a generation of crime novelists – particularly those writing about serial killers. He hasn't touched on serial killers much since American Psycho, but revisits the topic in gruesomely creepy fashion with The Shards. His first novel in 13 years is intense, layered, deeply emotional and pretty much unputdownable. Unless, of course, cosy crime fiction is your bag, in which case you'll drop it pretty quickly.
The Shards is set in the autumn of 1981 in Los Angeles. It's a metafictional piece, meaning that the author is your narrator and a participant in the story and the setting is real, however what happens is fiction. That's just as well, because some of it might give you nightmares. As summer ends, the 17-year-old Bret returns in his Mercedes to the expensive prep school Buckley College for his graduation year. He wanders in on a bizarre crime scene. The school's statue has been desecrated in the most horrific ways, with fish from the pond dismembered and attached to it like some bizarre satanic sacrifice.
The area has been roped off and Bret is ushered away, so none of his friends have seen what's happened but his mind starts working overtime. The story is narrated with hindsight and the author drops in pieces that will come to light later on, and also hints that horrific things will happen to some of the main characters in the story. In the meantime, Bret is safely ensconced in a peer group at the top echelon of his year, which includes his beautiful girlfriend, Debbie Schaffer; his best friend Thom Wright, the high school quarterback; and Thom's girlfriend Susan Reynolds, whose beauty, composure and cool detachment mean she will one day become the school's homecoming queen. New to Buckley and to this circle of friends is Robert Mallory, who is handsome enough to be a model or an actor, but is medicated for certain issues that he hopes to leave behind.
Robert is so gorgeous Bret can't stop thinking about him; this is Bret's big secret. His persona as Debbie's boyfriend and part of the in-crowd is a facade and now and again he meets other boys from the school for afternoon sex. He remembers seeing Robert Mallory a year earlier in a movie theatre and because Robert won't acknowledge this, Bret decides he's a liar. Robert is going to upset things in ways Bret can't yet imagine.
Meanwhile, Bret has been following stories in the news about a series of home invasions. Often preceded by phone calls that are silent when answered, the break-ins involve various things – furniture is rearranged, pets are taken and killed, people are beaten-up and threatened. A cult made up of itinerant hippies reminiscent of the Manson Family is taking some form of revenge on the inhabitants of the richest suburbs of the city. Occasionally, however, young women are taken and when their bodies are found sickening alterations have been made to them. The police, and later the press, dub the killer The Trawler for reasons you'll discover when you read this novel.
Bret, who wants to be a writer and is already working on his first novel, Less Than Zero, begins to investigate and thinks that Robert has something to do with The Trawler. The more he finds out, the more he's convinced this is true. However, none of his friends follow the news particularly and, when The Trawler strikes closer to home, if Bret were to make accusations he'd risk outing himself as gay, losing his friends and social status in the process. He becomes increasingly obsessed with Robert – enamoured and disgusted at the same time – such that his heart and mind will not rest. Valium, Quaaludes, weed, alcohol – Bret will use anything to pummel his anxiety.
The narration is an exquisite stream of consciousness in which Bret experiences everything intensely. Often he looks at his own interpretation of what he's feeling, what he observes and the conversations he's involved in from different angles. It seems repetitive at first but the author uses these musings to shape our view of these characters, who might be rich, entitled, white teenagers but are also nuanced and highly complex individuals – more complex than Bret gives them credit for, even though we see them through his eyes.
We see the princes and princesses of the American empire in their prime, enjoying all that is laid before them. Their parents are property magnates, lawyers and leaders in the entertainment industry. They drive Porsches, Jaguars, BMWs and Mercedes. They drink champagne, snort cocaine and party with rock stars, actors and Hollywood producers. Yet this perfect world is nothing but traumatic and Bret chronicles this trauma through a narrative that feels like a thousand incisions, and there are probably about that many when all the knife work is said and done for.
This might be the most brutal coming of age story you'll ever come across. It's as though Bret's hunt for The Trawler and all the horrors it brings represents how crushed he feels emerging from idyllic teendom at Buckley prep school into the adult world. Robert's lies are juxtaposed with Bret's big secret, and it's hard to tell which of them is actually the more dangerous. With his parents away in Europe, two cars at his disposal, and a housekeeper cooking for him, Bret has all the freedom he could want but ultimately he is completely alone, referring to his high school persona as 'the tangible participant' while numbing himself with narcotics and hiding his homosexuality. There's a hint of ambiguity in how it ends, which is entirely fitting.
The Shards is a fascinating novel that will stay with you. It reminded me a little of The Secret History by Donna Tartt, with whom Bret Easton Ellis studied at Bennington College. There's also a hint of Ripley about the young Bret, and fans of Patricia Highsmith will certainly enjoy The Shards.
Swift Press
Print/Kindle/iBook
£10.99
CFL Rating: 5 Stars