Let's take a break from all the Yuletide mysteries hitting the shelves. Let's hide the cosy crime novels under some magazines. And let's remind ourselves that few things are better than watching characters act against their better judgement and morals, only to pay the price for it, in classic noir fashion. This week we're going to begin On the Radar with two indie crime books that exemplify modern noir and will be just what you need if all that cosy cushioning has you feeling like you're in a padded cell. Matt Phillips and Craig Terlson are here with new noir novels. After that, we'll take you to the furthest reaches of Southwest Wales with Sarah Ward, into a pro sports mystery with Elise Hart Kipness, and to China with Jean Kwok.
Use our Amazon Associates or Bookshop.org Affiliates links to purchase and you'll help support our site. Thank you.
A Good Rush of Blood by Matt Phillips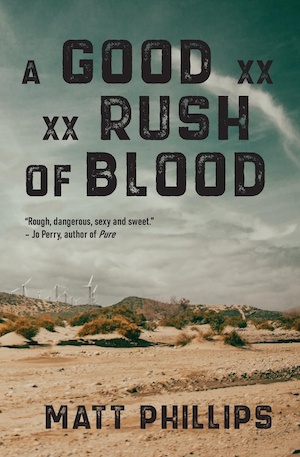 It's a stellar week for noir fans, with a new work by Matt Phillips hitting the shelves on 1 November. Creeley Nash feels like she's been looking over her shoulder all her life, and when a drugs run for a wannabe kingpin takes her back to Palm Springs – where Creeley escaped her no-good mother as a teen – it's time for her to confront her past. The town's sun-drenched facade hides a web of dark secrets, as Creeley discovers as she tries to unravel the mystery of her estranged mother's murder conviction, encountering bent cops, grizzled reporters, hardened drug dealers, eccentric sidekicks and sexy librarians along the way.
Order now on Amazon
Three Minute Hero by Craig Terlson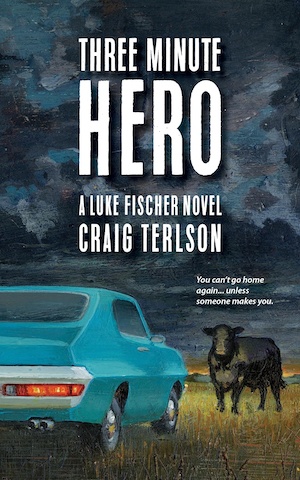 Craig Terlson's reluctant detective Luke Fischer is back in the noirish Three Minute Hero. Fischer is on the trail of a hired killer who bumped off his employer's nephew, crossing two borders in pursuit of Mostly Harold, a lizard-boot-wearing hitman with a fondness for Burt Bacharach, Louis L'Amour, acidic observations and sucker punches. Before he knows it, Luke is caught up in a Canadian prairie war between rival factions fighting over a cache of illicit cash – and bitterly regretting his decision to take on the job in the first place. Can he get out of this one alive? Find out on 27 October.
Order now on Amazon
The Sixth Lie by Sarah Ward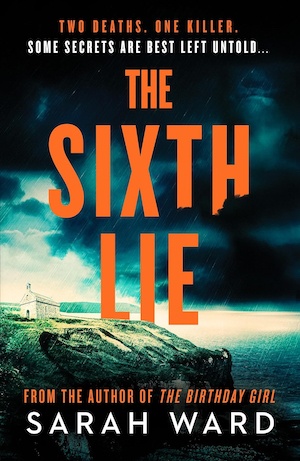 We first met former cop Mallory Dawson earlier this year in The Birthday Girl, now she's back in The Sixth Lie, out on 2 November. Mallory is now working in the gift shop inside the cathedral in St Davids, Southwest Wales. It's a dull occupation, but essential to top up her pension from the Met. When a woman is found, apparently frozen to death in the snow, DI Harri Evans comes calling. He believes Heledd Jones's death is suspicious, and connected to the disappearance of her son Huw, over a decade ago. Can the pair work together and get to the bottom of things? Settle back and let Sarah Ward spin her tale…
Order now on Amazon or Bookshop.org
Lights Out by Elise Hart Kipness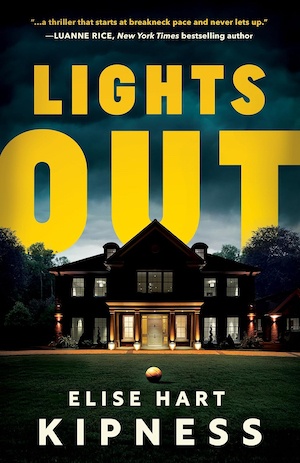 Former television sports reporter turned thriller writer Elise Hart Kipness makes her crime fiction debut on 1 November with Lights Out and has followed that old adage of writing what you know. Former Olympic athlete and sports reporter Kate Green is on leave from her job when NBA superstar Kurt Robbins is killed and the prime suspect in his murder is none other than his wife… and Kate's best friend. So what's a girl to do? Jump in and investigate, that's what – but things get even more complicated when Kate's estranged father suddenly reenters her life as a detective assigned to Kurt's homicide case.
Order now on Amazon or Bookshop.org
The Leftover Woman by Jean Kwok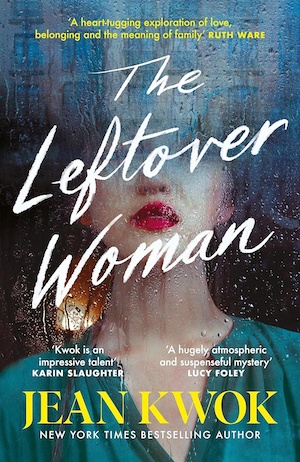 Two women, separated by wealth and culture, yet bound together by their love for the same child, are at the heart of Jean Kwok's The Leftover Woman, which comes out on 2 November. In China, Jasmine Yang gives birth to a stillborn daughter – only to learn five years later that the child actually lived and was sent to America for adoption. She arrives in New York in pursuit of her daughter, with her husband on her tail and no one to turn to. Meanwhile, high-flying Rebecca Whitney has it all – including a daughter adopted from China. When the two women finally meet, their lives will never be the same again.
Order now on Amazon or Bookshop.org
Nominate your top novels, author and show of 2023 in the Crime Fiction Lover Award 2023. Details here.