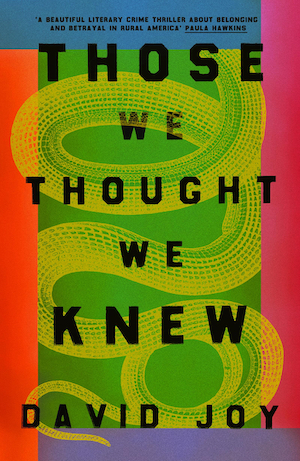 North Carolina author David Joy began his career writing about fly fishing, but we can be grateful that he changed his angle to become an acclaimed author of what's often called rural noir or Southern gothic crime fiction. He captured the soul crushing effects of the opioid epidemic in Appalachia with When These Mountains Burn, a five-star read in 2020. In 2023 he brings us Those We Thought We Knew, a look how race still divides the rural South.
Toya Gardner, a young black artist from Atlanta has moved to live with her Grandma, Vess Jones, in a small North Carolina community. She has returned to complete her graduate thesis at the local university, and to connect with her familial and racial heritage. Inspired by the community's celebration of another sort of Southern heritage, her art becomes the spark which inflames the whole town, exposing the divisions in American society and leading to murder.
The local university was built on land owned by a church with a black congregation who were forced to make way. In protest, Tanya, helped by some other students, makes an installation on the university lawn proclaiming the institution's guilt for all to see. Sheriff John Coggins considers himself a good man, a friend to everybody no matter their race, and while he doesn't agree with Tanya's actions he is sympathetic. He resists calls from some of the town's conservatives to throw the book at her.
Meanwhile, deputies Ernie Allison and Tim McMahan try to deal with a vagrancy complaint. William Dean Cawthorn has been sleeping in his Caprice. He holds a Mississippi license and his appearance and behaviour are suspicious enough for the two deputies to search his car. Cawthorn looks like a con, and is tattooed with swastikas.
Inside they find Ku Klux Klan robes, a revolver and a long list of contacts including some of the most prominent members of the community including local businessmen, councillors and the chief of police. Spooked, the deputies leave the book in the car. However, Allison's conscience eats at him and the next morning he goes to find the list to show the sheriff but it's gone. McMahan denies taking it but there is a tension between the two deputies that didn't exist before.
Despite warnings from Sheriff Coggins, Tanya is not finished. It seems as if everywhere she looks there are not just reminders of the legacy of slavery, but celebrations of it. Inspired and outraged, she defaces the statue of a Confederate general, pointing out in a most articulate fashion how the community has blood on its hands. This time Coggins feels his understanding and sympathy turning to frustration; Tanya has gone too far and he will have to arrest her.
In the ensuing violence, someone is killed and any hope of defusing the situation is gone. Tanya's artwork has made a noise, and the defaced statue acts as a lighting rod for both civil rights groups and white power activists. The town becomes a tinder box, and Cawthorn holds the matches, ready to make it burn.
Those We Thought We Knew is a powerful examination of the South from a writer who grew up there and knows it well. David Joy articulates Tanya and Vess' experiences as black women in a hostile environment, but is equally able to show the perspective of the townsfolk, whether they be secret Klansmen or gentler people like Coggins.
This examination of America's racist legacy – a problem that remains current and relevant – connects the book with another excellent thriller published this year, SA Cosby's All The Sinners Bleed, set in Virginia. Those We Thought We Knew is more than a hot topic thriller though, it is also demonstrates the power of creativity and its clear from Joy's descriptions of Tanya's work and her process that he is interested in the creative act.
Andre Deutsch
Print/Kindle
£9.19
CFL Rating: 5 Stars