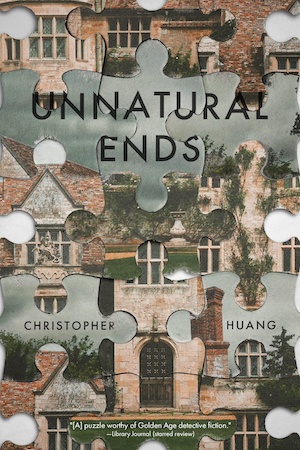 Canadian author Christopher Huang's new crime caper might not have the brutal one-liners of Succession, but it does have an unscrupulous patriarch who takes pleasure in manipulating and pitting his three children against one another – even after his death.
April 1921: Sir Lawrence Linwood has been violently bludgeoned to death in his study, presumably by someone he knows. His untimely death brings his three adopted children back home where they're met with an unexpected request in their father's will. An unorthodox clause states that, in the case of his unnatural death, the child who finds his killer will inherit his estate.
Their father's request doesn't come as a surprise to Alan, Caroline and Roger. Lawrence Linwood's idea of parenting was to command respect, instill fear and to train his children to be as cold and ruthless as himself. Weakness and emotion were not tolerated. This was a man described by his children, who he treated as engineering experiments, as "…a prelude to a storm, a gathering darkness." Readers will undoubtedly sympathise with them for their traumatic childhoods.
Despite a harsh upbringing, the Linwood siblings left North Yorkshire, spread their wings far from home, and seem to have emerged emotionally unscathed. Alan went on to become an archaeologist, Roger an engineer, and Caroline a Paris-based journalist. Yet, they continued to seek their father's approval and each believed themself to be his favourite. Then again, their father did promised his entire estate to each of them, separately. It begs the question: who had the most to gain from his death?
His three children are obvious suspects, but what about Rebecca, his long-suffering wife? A woman unable to have children of her own, she endured her husband's cruel nature and succumbed to his demands. When evidence points to Rebecca and she appears to have no memory of the events on the night of the murder, Detective Inspector Clarence Mowbray is forced to arrest her. Maybe she snapped after years of living in Lawrence Linwood's shadow? Now the children ponder how well they knew their mother. She was a medical doctor, but after marrying became an absent, cold parent who took no interest in them.
As the siblings try to solve the mystery and prove their mother's innocence, they uncover a slew of family secrets, including the truth about their own biological mothers. Each child offers their unique perspective on their father while they constantly feel his presence, looking over their shoulders and judging them.
The mere recollection of her father's whisper makes Caroline shiver "…like a frost-footed spider." It's impossible to deny his foreboding influence in their lives, and even after his passing, they still feel his presence. This adds an ominous and mysterious atmosphere to the narrative, aided by descriptions of secret tunnels and a priest hole. We are almost led to believe that Sir Lawrence's ghost roams the mansion.
Huang takes some of the well-trodden crime fiction tropes and makes something interesting of them. Rebecca Linwood's name feels like a nod to the Daphne du Maurier novel, especially as there are similarities between the characters. Unnatural Ends has the perfect setting for a gothic mystery too. Linwood Hall is perched atop a cliff, with views of Linwood Hollow on one side and the Yorkshire moors on the other.
As with Christopher Huang's debut, A Gentleman's Murder, the story is written like a Golden Age mystery with misdirection, imposters, impersonators, poisoning and a locked room all part of a twisty whodunnit. Unnatural Ends will appeal to mystery lovers as well as Succession fans suffering from withdrawal symptoms. Move over, Logan Roy, there's a new dead autocrat in town.
Also try Foul Deeds and Fine Dining by Italian author Marco Malvaldi.
Inkshares
Print/Kindle/iBook
£11.43
CFL Rating: 4 Stars