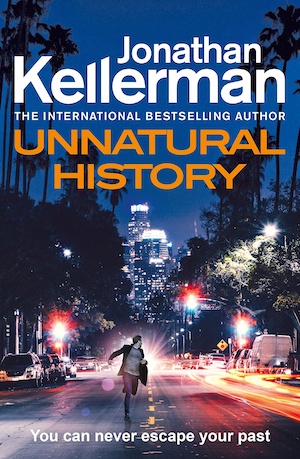 It feels like Kellerman crime novels come as regularly as the tides on Venice Beach. Psychologist Alex Delaware and LAPD lieutenant Milo Sturgis have been investigating deaths in the LA suburbs since the award-winning When The Bough Breaks, and now here is Unnatural History, the 38th in the series. The story unfolds as fans would expect, but it's a pleasant familiarity, not a plodding one – the formula works. The characters' voices remain compelling, the traffic-clogged streets seem real, and the murders are puzzling.
Dr Alex Delaware and his detective pal are an unlikely duo. Delaware is a consultant who helps Sturgis solve mind-boggling murder cases. Despite or perhaps because of his traumatic childhood, Delaware remains an empathetic observer of human nature. "Individuals of his persuasion don't guess, they hypothesise," Sturgis explains to his squad. Meanwhile, Delaware and his girlfriend, Robin, have a tediously comfortable relationship. The story is punctuated by his going home to tune his guitar, pet his dog, and enjoy 'romance'. Sturgis, by contrast, is a comfort-eating, grouchy, workaholic, gay detective whose experiences haven't stopped him from being a kind boss or a generous tipper.
While the mystery structure might be time-tested, the locations and suspects are a departure for Kellerman. Unnatural History takes us to some of the grimier parts of California that he doesn't often explore. The initial murder is of a wealthy photographer on the north side of Venice Boulevard: Adonis 'Donny' Klement, shot in the chest in his bed. But he'd been working on an art project in which he paid homeless people to sit for his camera. Did one of them come back to rob him?
Milo and Alex leave the wealthy suburbs and canvass the shelters along Pico Boulevard. Homelessness is a significant problem in cities on the US west coast today, and Unnatural History sends our detectives into the slums and camps looking for clues. It's out of the comfort zone for our heroic pair. When Klement's down-and-out models also start turning up dead, it looks like something very sinister is going on, as well as a chance for Kellerman to take an uncharacteristic detour into social commentary.
There's a page or two where Alex Delaware expounds on the terrible state of the LA mental health policies, how patients are released from hospitals to fend for themselves, and how disturbed people on the street deserve care and structure. One senses that this is the author himself, a child psychologist by training and profession, on his soapbox.
Kellerman tackles the impoverished community with his trademark keen eye for detail and dialogue. One character in particular, a bipolar witness called LaBelle, lights up the page with her energy and observations. She's in the book for one short chapter but leaves you wondering if a spin-off in which she solves crimes beneath the concrete freeway might be an excellent read. Maybe she should partner with Parisian journalist Andre, another memorable bit-part player who's in the narrative for a few succinct lines over the phone but who feels fully fleshed out. As is common now, our protagonists are supported by trusted junior officers Moe Reed, Sean Binchy and Alicia Bogomil, who made their debuts in other Kellerman books.
Alex Delaware is still an idealised figure, always lucky and charming, a voice of reason. He lectures experienced officers on how to solve crimes, and everybody seems to defer to him. But in recent books, it's seemed like he's been infallible. Not so much here. Suspects fawn over him much less, and in fact, LaBelle gets a laugh out of everybody at his expense. In the denouement – a noir-ish nighttime confrontation by the coast – Delaware needs to be saved by his police pals rather than the other way round, a re-balancing of the ledger that will doubtless be good for the character in the long run.
One of the earliest studies of Kellerman's novels, by Dick Gibson in 1994, described the relationship between the pair in these climactic moments: "Delaware as amateur Knight-Errant often gets into horrendous nightmare difficulties. The reader can nevertheless remain semi-relaxed, knowing gay cop Milo… will come riding in on his figurative white stallion to rescue Delaware at the last moment." For a few entries in the series, it felt that that hasn't been the template, but Unnatural Histories follows that pattern again.
Kellerman's writing is restrained as if to match the downbeat setting in this episode. Usually, it's intensely descriptive to the point of lyricism. Unnatural History still has the short, sharp crack of the pulp thriller, but when our narrator describes a witness's clothes as looking like "an octopus wrapping itself around a sardine", it stands out because his prose is usually full of similes like this, whereas 2023's novel is more matter-of-fact. It could be awkward, one supposes, to make witty observations about those living rough on the street.
Century
Print/Kindle/iBook
£16.99
CFL Rating: 4 Stars