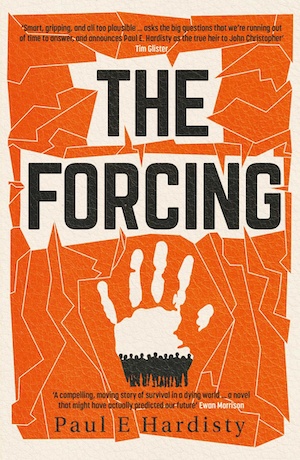 Author Paul E Hardisty may have lived and worked all over the world, but his Canadian roots are showing in his latest book, The Forcing. It is an eco-thriller set in the not too distant future in the aftermath of two global pandemics. The world is in a precarious state. Lies, misinformation and conspiracy theories have become the norm. Competition for natural resources has lead to war. Young people are being drafted to fight. Seeking protection from a more powerful country, Canada has merged with the United States. Hardisty's dystopian view of life in North America is grim and all too believable.
One significant change in North America is a huge shift in who holds the power. Frustration with previous governments and older individuals not taking serious steps to slow down climate change has led to the formation of a youthful government. This government has introduced an ageist policy ensuring that available resources go to the younger generation. Older adults are deemed responsible for the climate crisis and must relocate after they receive notice from the government. Their property and assets are taken from them and they are sent to live in southern regions of the former United States.
Hardisty gradually introduces you to the new world order and some key characters. David Armstrong is a man known by his profession. His students and friends all call him Teacher. He believes that science and rational thought are beacons for humanity. When he receives his notification of relocation while he is at work, Teacher stoically completes his planned lessons.
Teacher's wife, May, is an artist. She is furious when she learns that she is being relocated with Teacher. Even though their relocation is being directed by the government, May assumes that everything is Teacher's fault. Her anger towards him is amplified as she has not been taking her medication and her mental health is unstable. In spite of the tension between them, they realise that they have no choice and get on the relocation bus. Each is allowed one standard case.
Hardisty makes it easy to visualise the man-made destruction of the environment through his descriptions of the landscape. After many long hours sitting on the bus passing forests devastated by wildfires and farms abandoned because of drought, May and Teacher arrive in Texas. They are informed that they will be sharing an apartment with other individuals who have been relocated. There is a brash billionaire and his high powered lawyer wife, an African man and his younger French partner, and a single older man.
Tensions rise over time as the residents become aware of the reality of the resettlement camp. They are essentially prisoners. People disappear. Food and water are scarce. They have no phones or Wi-Fi. They are surrounded by razor wire, guard towers and armed soldiers. It is a gripping living hell. You will find yourself reading late into the night to see who survives and how in the camp and whether escape is even possible. It is riveting to read about how people respond in desperate situations.
There is a story within the story of The Forcing. Throughout the book there are chapters from the perspective of Teacher documenting events in his life. These chapters are obvious as they are printed in italics. Initially, some readers may find that these chapters slow the flow of events but by the end of the novel you will appreciate the insight they offer into what the future may hold.
Good crime fiction like The Forcing can serve multiple purposes. In addition to being a riveting eco-thriller that shows human beings fighting for their survival, it also paints a realistic picture of our future if society as a whole continues to ignore scientific warnings about global climate warming. Of the many crimes that occur within The Forcing, the biggest that world governments and large businesses make decisions based solely on short term economic reasoning. Hardisty's background in environmental engineering and conservation gives depth and plausibility to this thought-provoking storyline.
Also see The Blind Spots by Thomas Mullen or Hardisty's Reconciliation for the Dead.

Orenda Books
Print/Kindle
£4.27
CFL Rating: 5 Stars