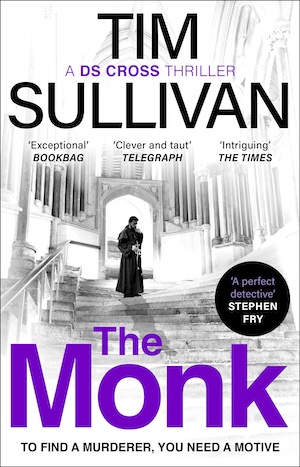 As well as writing crime novels, Tim Sullivan is well known as a director and screenwriter. In fact, it's likely you've watched something he's worked on such as The Casebook of Sherlock Holmes, Coronation Street or Cold Feet. Each of his DS George Cross novels so far has been titled after the victim's profession. We've had The Dentist, The Cyclist, The Patient, The Politician and now The Monk.
In this case we're talking about a Benedictine brother called Dominic. The problem for our Bristol-based detective is that in keeping with his dedication, the man had no enemies and it's hard to see any motive behind his nasty demise other than sheer cruelty. He's been tortured and murdered, and Cross faces his most complex case to date. In Cross we have a detective who doesn't go on hunches – it's all about the evidence, and there's precious little of that for him to go on.
The now de-rigeur early morning dog walker comes across the awful murder scene in Goblin Combe wood near Bristol. A dead man taped to a chair. The victim is wearing the habit and hooded scapular of the monks of St Eustice's Abbey. The police soon discover that Dominic Augustus was reported missing two days earlier, so this isn't a kinky fancy dress thing gone wrong.
The police are not easy shocked by a violent crime but it's hard for anyone to get their head around why someone would want to kill a man in holy orders living a quiet life in a closed order monastery. The violence of the crime, which is hinted at not paraded, is horrific. One pointer – it has nothing to do with any abuse scandal, so that's the obvious out of the way.
DS George Cross of the Avon and Somerset murder team is on the autism spectrum. He is a brilliant detective but is socially awkward and his questions are incisive and blunt to the point of rudeness. Being diagnosed late in life was a relief for George but his colleagues still don't fully understand and find it difficult working with him. It's his partner DS Ottey, who knows him, who acts as a conduit to the rest of the team. The upside is that his rational and direct approach enables him to get to the heart of some issues far quicker than other detectives might.
On the other hand, while George has learned to read people's faces and gestures he sometime misses the nuances of their behaviour. There's never a dull moment around George and there's a humour attached to his directness which really throws people. He's exceptional at interrogations, a fascinating aspect of the story, it's not just tying up ends on the case but really finding out about witnesses and suspects and secrets. George also has a particular disdain for the press.
So begins the painstaking work of figuring out what it is about the book binding, bookkeeping monk that made him a target. George starts with the relationships Dominic had at the abbey with the brothers. Is this a close-knit community as the abbot claims? When the Abbot refers to the community as a family, suggesting it's a good thing, George is confused – his own family background is strained. His mother left when he was young, though she is now back in touch, and his father brought him up with his lover. Their weekly get togethers mean a lot to George.
The Abbot, Father Anselm, and the monks of St Eustice appear guarded when questioned about Dominic but is this their lack of contact with the outside world and natural shock or are they hiding something? While Ottey and the others retain a certain reverence around the abbey, George is a little more forthright. And naturally when Cross thinks he's been subtle he's sticking a size 11 right in.
The mystery is intriguing, a slow burn, but it's all about George and his fresh approach will appeal to readers schooled in tired tropes that don't apply here. If you don't like George this story will fall flat for you but we think readers will take to him. With his background in television, Tim Sullivan writes in a grounded style with an eye for detail that makes you pay attention. This is a little more literary than a mass market thriller but nonetheless an it's an intriguing and entertaining read and we don't often see Bristol and the West Country as a setting for crime.
Clearly, a lot of research went into George's character; he's a real person not a caricature of someone with autism. The laughs are shared with George, not directed at him. The fact that he is on the autism spectrum is a welcome recognition of diversity in society missed in most fiction.
For another take on autism in police investigation teams try the French crime show Astrid: Murder in Paris.
Head of Zeus
Print/Kindle/iBook
£3.99
CFL Rating: 4 Stars