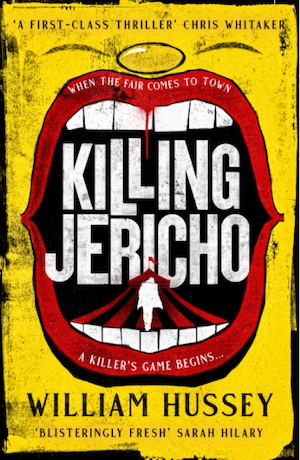 William Hussey's Killing Jericho is the thrilling introduction to a detective cut from an entirely new mould. Scott Jericho is an openly gay traveller, grew up on the fairground circuit, went to Oxford to read English literature, then worked as muscle for hire in London's criminal underworld. He is also a former cop, drummed out of the Metropolitan Police and jailed after savagely beating a murder suspect, which derailed the case.
Still, Jericho's career as a private detective gets off to an inauspicious start. He has spent the months following his release in an alcohol- and drug-fuelled stupor in an attempt to drown out the voices of the ghosts that have been haunting him since his disastrous final case with the Met. Having lost his career, his home and his reputation as a result of his violent temper, Jericho had no choice after leaving prison but to return to the traveling fair run by his father. Since then, he's barely moved from his decrepit trailer.
The friends and family he once turned his back on have sought to interest him in fairground work, while his former mentor has attempted to engage his interest with the case files of some particularly peculiar crimes, but it is a savage encounter with a suspected paedophile that finally shakes him free of ennui. It turns out the man was sent to the fairground by Professor Ralph Campbell as a test to see if Jericho could spot his criminal tendencies.
After passing the test in bloody fashion and hearing Professor Campbell's message – "Tell Jericho … that they're calling out to him: the dead of Travellers Bridge" – Jericho feels compelled to investigate further. It's the first time he has felt any interest in anything in months, and the link to traveller lore means he's unable to resist learning more, especially when murder is mentioned.
The Travellers Bridge tragedy took place 150 years ago in the fictional Oxfordshire market town of Bradbury End. As the wagon carrying Matthew 'Slip-Jointed' Jericho and four employees of his travelling freakshow passed over the bridge it collapsed, sending them all to a watery grave. Now, Professor Campbell is convinced that a serial killer is using the legend as the basis for a killing spree.
It seems too far-fetched for Jericho, but he hasn't been keeping up with the news. Professor Campbell tells him about three recent murders where the victims were mutilated to resemble the freaks who perished in the tragedy. Forced to admit there might be some truth to the serial killer theory, Jericho agrees to travel to Bradbury End and investigate.
Killing Jericho is a dark and twisted tale with a hint of the supernatural. Scott Jericho is haunted by the ghosts of three children who perished in an arson attack, and by guilt stemming from his role in allowing their killer escaped justice, which is why he is suspectable to the idea of the dead of Travellers Bridge calling out to him. Additionally, aside from the truly horrific nature of the crimes, there's something almost paranormal about the killer. Fortunately, Jericho has his feet firmly planted on the ground and shows no fear when pursuing the depraved yet undeniably human serial killer.
Jericho himself is a complex character who is not always easy to like. He has a violent streak that has brought devastation and disappointment to himself and others, but he has certainly paid a high price for past mistakes. The many and often-conflicting facets of his personality mean he has never really felt at home anywhere. He also has a tendency to treat people badly in the convenient belief he is helping them by enforcing distance and keeping secrets.
Despite seeking to distance himself from his roots, Jericho's traveller background continues to have a major influence on his life. Even among former colleagues who dislike him, Jericho's almost preternatural skill as an investigator is acknowledged, and William Hussey shows great originality in explaining how growing up among showmen shaped his observation and deductive reasoning skills, moulding him into an almost perfect detective. Hussey doesn't shy away from the discrimination travellers often face, as the need for constant vigilance has also informed Jericho's exceptional ability to recognise criminals.
Moreover, Hussey does a sterling job of establishing the duality of Jericho's attachment to the travelling fairground. He vividly describes life there, both the good and the bad, the magic seen by the punters and the gruelling work that goes on behind the scenes. Several interesting characters from among the travellers feature only briefly in Killing Jericho but will hopefully reappear and be fleshed out as the series progresses. The fact that the travellers remain outsiders, no matter how regularly and for how long they visit places, means they are uniquely placed to observe and influence events, largely without people noticing.
One place where travellers have had an undeniable influence for centuries is Bradbury End, an archetypal country town where the outwardly pleasant façade masks simmering discontent. This time it is not the travellers are the focus of vitriol and Jericho experiences some unwelcome profiling by local police. The citizens are up in arms about the proposed closure of the local library and the construction of a mosque, and Hussey clearly portrays the slow-dawning realisation that their prejudices have allowed far-right groups to infiltrate the town.
Killing Jericho is a macabre tale in which the (anti)hero's Sherlockian powers of deduction are pitted against the murderer's depraved yet coldly controlled machinations. There is plenty of shock and gore as Jericho's hunt for the apparent serial killer progresses, and the case has even wider-ranging impacts than he could ever have expected. It makes for stirring start to the Scott Jericho series.
Also see The Lobster Boy and the Fat Lady's Daughter – an American crime novel set in the traveller milieu.
Zaffre
Print/Kindle
£12.79
CFL Rating: 5 Stars