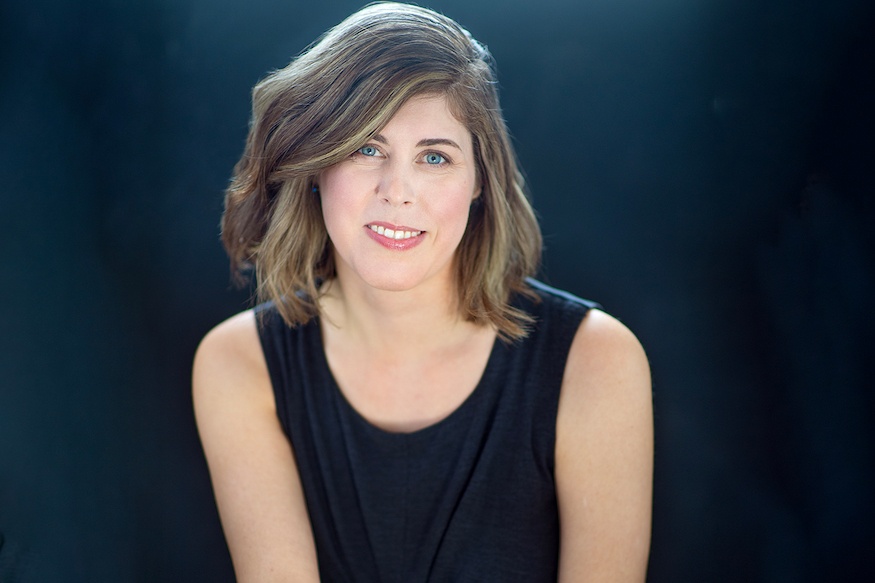 Today we introduce you to Ashley Kalagian Blunt – the new voice in Australian crime fiction who writes about Sydney rather than the Outback, and whose debut novel, Dark Mode, is out in April 2023.
Snapped up by the Australian publisher Ultimo, Ashley has put down roots in the Australian writing scene but is actually from Western Canada, arriving in Australia via South Korea, Peru and Mexico. She has built up a deep interest in her new homeland and writes for numerous publications there as well as podcasting about writing, creativity and health. A lot of the cliches about Australia are put aside in Dark Mode, where instead she looks at broader issues such as online privacy and misogyny in an urban setting that nonetheless has its own unique character. She also lets her fascination with crime fiction and true crime shine through.
When Dark Mode came out in Australia in March, it became the number one fiction debut and now it's landing in the UK. We asked Ashley over chat about Dark Mode and some of the thinking behind it…
First of all, can you tell us more about yourself, your background, where you're from/based and how you got into writing crime fiction?
I'm originally from the Canadian prairies, and lived and worked in South Korea, Peru and Mexico before moving to Sydney. I've been writing since age 7. My two earlier books are a thriller novella and a memoir of moving to Australia and mistakenly thinking it was 'hot Canada' (it's not).
In 2017 I was diagnosed with a chronic illness and spent the next two years largely bedbound. During that time, I listened to hundreds of hours of true crime podcasts. By the time I was well enough to write again, I was keen to try crafting a crime thriller, my fav genre.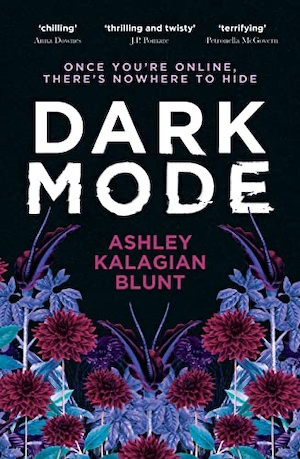 What are crime fiction lovers going to love about Dark Mode?
I love it when a crime novel hooks me from the opening and propels me through the story, and I worked hard to craft Dark Mode to have this effect. Readers have been loving that, along with the true crime details woven through the story.
Tell us more about the protagonist, Reagan Carsen, and how you developed her character?
It's 2017, and Reagan is a mid-20s Sydneysider who owns Voodoo Lily Garden Centre, where she grows strange and unusual plants – monkey orchids, living stones, devil's tongue and more. She finds relationships with plants easier than with people, due to past experiences.
As a young woman, she sought help from the police, and was told: 'If you don't want these things to happen, stay off the internet.' She took that advice to heart, but it's becoming increasingly difficult to stay offline, especially with her business going bust.
Who is her friend Min and what role will she play?
Min-lee Chase is a reporter and true-crime author. After Reagan discovers the body of a woman who looks uncannily like her near her home, she'd prefer to forget the whole incident. But Min has questions, and soon uncovers the past Reagan has tried to leave behind.
The bad guys here lurk online and use the dark web. How did you research that world, and what real life cases of online abuse, stalking etc fed into what happens in Dark Mode?
I did learn how to navigate the dark web myself, though most of my research came from books and podcasts. One of the cases that most influenced Dark Mode came from the podcast Hunting Warhead, which provides a shocking look at the challenges of combatting online activity devoted to harm.
There's also an Australian Black Dahlia killer on the loose and a big police investigation. Where did that strand of the story come from?
During my true crime binge years, I heard the Black Dahlia case referred to as 'America's most infamous unsolved murder'. That immediately intrigued me, and I started a deep dive into the bizarre death of Elizabeth Short. Like many people over the years, I became a bit obsessed with the case!
Dark Mode really makes you realise how much we rely on the internet and social media and how pervasive it is. What are your own reflections on this?
We are pushed through peer pressure, convenience and capitalism to give up far too much of our privacy – and we accept this, because it's too hard to fight the tide.
You've avoided a lot of the cliches about Australia that we non-Aussies tend to see a lot of in crime novels. Was this a conscious choice?
I've only ever lived in Sydney, so I'm more equipped to write authentically about it than about the bush. I spent five years writing a memoir about Australian identity, so I was eager to showcase its peculiar plants, its cloying heat and its characterful neighbourhoods, and give the book a distinct feel.
When Dark Mode launched in Australia it became the number one fiction debut. What was that like for you?
It's exceptionally rewarding to see readers connecting with the book. I've received a lot of messages from people who have stayed up late to finish it, one who kept reading til 5 am! It's the readers who've made it number one, and I'm so thankful.
Which crime authors or books have inspired you and why? What are you reading at the moment?
Three of my favourite crime writers inspired Dark Mode's style and pace – Candice Fox for her fast-paced, surprising plots; JP Pomare for his incredible twists and the dark psychology in his plots; and Tana French for her in-depth character studies. I'm currently reading Faceless Killers, a police procedural from Swedish author Henning Mankell.
What's next for AKB?
More crime thrillers! I really enjoyed writing Dark Mode, and I've loved connecting with fellow crime fiction fans. I'm already hard at work on another book with a similar tone and approach. One day in the future, I hope to have an entire shelf in the genre.
Grab a copy of Dark Mode using the buttons below, or find out more about Ashley on her website.