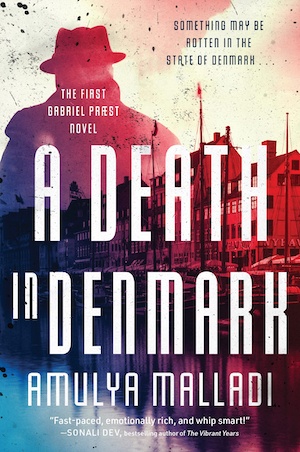 It's not often crime fiction lovers will come across a Kierkegaard quoting, sharply dressed detective who is also a jazz musician. However, that's just what we get in Gabriel Praest, an ex-cop from Copenhagen who provides a promising start to Amulya Malladi's new series.
Gabriel is a private detective working for law firms in Copenhagen, including that of his ex-wife's new partner. He was fired from the financial fraud division of the Copenhagen police after sharing information about a case with a journalist – and the person he was looking into was the national chief of police! These days he deals with corporate theft, embezzlement, industrial espionage, corporate corruption, insurance fraud and cheating spouses.
Gabriel is understandably hesitant when his ex, Leila, asks him to prove the innocence of Yousef Ahmed, a man convicted of brutally murdering right-wing politician Sanne Melgaard. He thinks of Leila as the one who got away, but more accurately she is the one who cheated on him with her ex-boyfriend. He hasn't forgiven or forgotten, but even though Leila has a new fiancé she wants to win him back.
Despite working for the Danish military during the Iraq War, Yousef Ahmed's son was denied Danish citizenship and returned to Baghdad where he was tortured and killed. The assumption is that Yousef blamed his death on Sanne Melgaard, who campaigns on a strong anti-immigrant agenda. Yousef denies this, claiming that he only went to Melgaard's summer house to deliver a letter and that Melgaard was not present. According to him, someone from her office called to inform him of her whereabouts.
So, was Yousef framed? In a country where refugee and immigration policies are being questioned and anti-Muslim sentiment is at an all-time high, he would make an ideal scapegoat. While the rest of the world was discussing diversity and inclusion, Melgaard was advocating for exclusion and homogeneity.
In an unexpected turn of events, Gabriel and Leila discover that Melgaard was working on a book about World War II and the Nazi occupation of Denmark. She was collecting articles and conducting interviews when she was killed. She also went to Berlin to search Nazi archives for records of Danes who collaborated with the Third Reich.
To the chagrin of Leila's fiancé, Gabriel and Leila take an impromptu trip to Berlin and track down down Dr Oskar Sommer, an academic Melgaard consulted with at the History Institute in Berlin. Unfortunately, they are being pursued by dangerous men, possibly Russian gangsters, and casualties are unavoidable. They return home, their lives in jeopardy, only to discover that Gabriel's daughter, Sophie, has also been threatened. Someone is desperately trying to prevent them from revealing Denmark's embarrassing wartime secrets.
A Death in Denmark and the introduction of the charming Gabriel Praest are just what crime fiction seems to need right now – a breath of fresh air. Even though it's set in Denmark, the book was written in English and isn't your classic Scandinavian crime fiction novel. It's more hardboiled and tongue-in-cheek than it is gloomy. The writing style is short, abrupt and to the point. Author Amulya Malladi goes to town here, and one wonders whether it's done jokingly to reinforce the hardboiled styling. However, each character is introduced in great detail. It may appear to be overkill at first, but the running commentary on their appearances down to their clothing comes across as rather deadpan and intending to be funny. The characters, particularly Praest, should not be taken too seriously.
The horrors of war, the treatment of women involved with German soldiers, the refugee crisis, nationalism and the Danish identity are all addressed in A Death in Denmark. Fortunately, the story has a humorous undercurrent that elevates it from a potentially dark read to something clever and sharp-witted. This is primarily due to the main character. Praest is a larger-than-life and likeable middle-aged man who exudes confidence without being obnoxious. He's also one of the most flashy dressers I've ever seen in crime fiction, and notoriously useless at home renovations.
Perhaps what helps set A Death in Denmark apart from other Scandinavian crime fiction might be the author's own outsider status. Although she is a Danish citizen, Malladi was born in India and now resides in Los Angeles. Her brand of detective fiction provides a fresh perspective with more diverse characters, and is a welcome departure from the standard Scandinavian fare.
Also see Anne Mette Hancock's Heloise Kaldan series or the Danish crime series Grow.
HarperCollins
Print/Kindle
£10.11
CFL Rating: 4 Stars