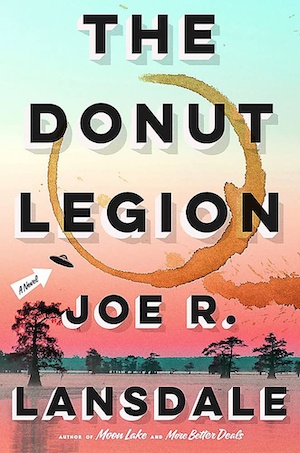 In his latest novel, Texan author Joe R Lansdale introduces new characters who have the feel of potentially forming the basis of a series similar to his earlier Hap and Leonard books. Charlie Garner was once a cop, became a private detective and is now a novelist. His literary success has given him an unexpected amount of free time to contemplate his next novel as well as his failing personal life. A late-night visit from his ex-wife, Meg, only adds to his confusion. She tells him her new husband, Ethan, is dead, possibly murdered.
Before mystically vanishing in to thin air, Meg leaves a cryptic message: "Watch out for Omelets. And beware the mound within the circle."
The following morning, worried he might have been visited by a ghost, Charlie drives over to Meg's apartment complex to investigate. Meg and Ethan are missing and Charlie can see that their belongings are all packed away. Then he visits his brother Felix for help. Felix is an ex-psychiatrist who might be able to give Charlie some reassurance about his sanity. Like Charlie before, Felix is now currently a detective who might also be able to help find Meg.
Charlie and Felix complement each other just as Hap and Leonard did. Charlie is the conscience of the pair, more cautious and serious. Felix hides a righteous anger and the strength to do prodigious harm, just below a good natured bonhomie. Both have their hearts in the right place. Taken together, they make a good team and both are very likeable. It really wouldn't be a surprise to see more of them in the future. While the back and forth between them doesn't feel quite as convincing or satisfying as we were used to with Hap and Leonard, it is nevertheless as funny as you will find in a Joe R Lansdale novel.
Felix has a girlfriend called Cherry who is a criminal lawyer and uses her cop connections to discover that the local police have written off the disappearances of Meg and Ethan. They regard them as two deadbeats avoiding their creditors. So, the three of them set out to conduct their own investigation.
A logical place to start is the donut shop where Meg worked. It turns out to be a business with connections to a local cult. The cult has grown up around a possible UFO landing site out in the East Texas countryside. Its members believe that a chosen few will avoid Armageddon, their souls being taken by an alien race to fight an intergalactic war. Meg and Ethan were on the periphery of the cult.
A story about Texan cults can't help but bring up memories of David Koresh and the massacre at Waco. Lansdale keeps the commentary light-hearted though, and this isn't an examination of cults or why people join them. Rather, it plays to that longstanding Lansdale staple – the stupidity of folk.
Like the vast majority of his work, The Donut Legion is set in the countryside around the author's East Texan city of Nacogdoches. Lansdale can be considered at least partly responsible for the resurgence of rural noir in American crime fiction, having written about it for four decades. He still stands apart from the newer names becoming synonymous with it; writers like David Joy, Eli Cranor and SA Cosby perhaps venerate more the people and culture whilst Lansdale emphasises the vulgar and the ridiculous.
It wouldn't be a Lansdale novel without sex, violence and a rogue's gallery of bizarre characters, and in this regard The Donut Legion doesn't disappoint. Charlie, Felix and Cherry are joined in their investigation by budding investigative journalist, Amelia 'Scrappy' Moon, who provides a love interest for Charlie. Pitted against our foursome are the six-shooter wielding Chief of Police, a sumo wrestler and an ex-con with a chimpanzee as security. Mayhem, often violent and bloody, ensues.
The developing romance between Charlie and Scrappy is a highlight of The Donut Legion. This is complicated by Charlie's feelings for Meg, and provides the novel with its emotional depth. Both are, in a sense, haunted by the ghost of Meg. At times, the plot and the mystery itself feel a little formulaic and The Donut Legion doesn't quite reach the heights of his best Hap and Leonard stories. But, as ever with Joe R Lansdale, we have a novel with strange, unpredictable characters, sudden burst of violence, witty banter and, of course, his unique, fluid style of storytelling.
Read our interview with Joe R Lansdale here, and watch for his upcoming short story collection Things Get Ugly.
Mulholland Books
Print/Kindle
£9.99
CFL Rating: 4 Stars