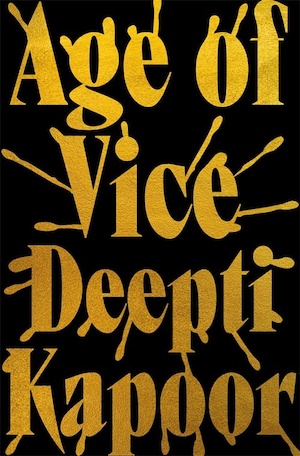 Epic is the only word for this ambitious literary thriller. As a gangster novel much of its appeal comes from its exotic location – New Delhi. Let's face it, India is an underexplored territory for contemporary crime stories and this fact alone has generated a buzz around Age of Vice. Film makers went big on the idea and a bidding war for the rights was underway even before publication. It was won by FX and Fox21. These things take a while but keep an eye out for that.
So what do we have? Think Mario Puzo's The Godfather in a mash up with Sacred Games by Vikram Chandra but set in the noughties – a banger full of Gen X-ers. Looking back, Deepti Kapoor's previous novel, Bad Character, published in 2015, was perhaps erroneously classified as women's fiction and some of the crime-veering themes it featured appear here too. No mis-categorising this time, this is a full blooded thriller, part romp, part satire, part nightmarish portrait of modern India and a capital city with its vast and all pervasive underbelly.
The story focuses on the relationships between three central characters: a gangster, Sunny Wadia; his sidekick, Ajay; and a female journalist called Neda. Over a period of about four years their stories intersect, with flashbacks allowing us to see how they reach the current time in the narrative. While their lives are played out, we get a panoramic view of Indian society, family life and culture. We see how religion and politics divide communities, and extreme wealth and poverty, exacerbated by class, corruption and violence.
It opens with one of the most gripping and devastating scenes we've read for a long time. New Delhi in 2004 is a city where the rural poor flock in hope of work and a better life. Many wind up living on the streets and at the mercy of the weather. At 3am one February night, a car mounts the pavement, hitting five people asleep on the Inner Ring Road. The driver has ploughed his Mercedes though them. The victims include a 18-year-old pregnant woman and her husband, newly arrived from Uttar Pradesh, and three migrant labourers. Before sun-up they will be forgotten, they are of no importance.
The police are grateful to find that the man in the Merc is not rich but a chauffeur, a worker they can arrest without fuss. Ajay is mercilessly beaten before being sent to prison. There, the gangs rule. Not knowing who he is, three men set about him and, perhaps exhibiting some remorse, at first Ajay lets them hurt him. Then his anger turns to violence and his attackers wind up in hospital. The warden soon gets wind that Ajay belongs to the Wadia crime family and brings Ajay to his office to apologise for the terrible mistake of exposing him in that way. Of all the gangs, the Wadia clan are to be feared; no one messes with them.
Then we learn Ajay's story. As a small child he was sold by his mother to a farmer. He worked every day, beginning before dawn, earning only his food. This went on for seven years before his owner died and Ajay was kicked out, eventually making his way to New Delhi where Sunny Wadia gave him a job. Ajay moved up until he became Sunny's personal valet, witness to the family's excesses and all that it's involved in, often cleaning up for Sunny and protecting him from his disapproving father, Bunty, head of the clan.
Neda Kapur is an investigative journalist. The crash has put the Wadias in the spotlight and she is on the story. However, Neda is drawn to Sunny, the charismatic, handsome, if superficial, heir to the empire and his seductive hedonistic lifestyle. Neda comes from a well-off family and is part of the cultural elite, though her parents are liberals. Sunny stands for all the things she hates about modern India – the privilege and wealth that sets you above the rules. It's a lifestyle that is the epitome of injustice and yet she can't help being lured in.
The younger Wadia crew are monsters in designer suits, jet setting, feudal lords even in this global age. It's people like Sunny who make the rules. The story of corruption, excess, violence and betrayal all leads to a spectacular denouement at a wedding.
Age of Vice parallels modern India with Kali Yuga, an age of conflict and sin in the Hindu creed. Rampant, unfettered capitalism is aided by nationalism and the caste system. It's a sharp analysis of India's woes. However, more than anything it's a rambunctious, full loaded action thriller – kidnapping, killing, drugs, ambushes, fights and all kinds of crazy excess abound. There's an ill-fated love affair, an attempt at redemption that is poignant and doomed.
The narrative is lyrical and bouncy, to the point that it contrasts the terrible things that are happening. Some might say it's long, too jaunty, but we loved every minute of it. The characters are believable and it's a proper page turner – fast, fun and thrilling. Age of Vice is highly readable, and you'll be immersed in its exotic location. We can't wait to see it on the big screen.
For similarly epic gangland reading try Don Winslow's City on Fire.
Fleet
Print/Kindle/iBook
£9.99
CFL Rating: 5 Stars