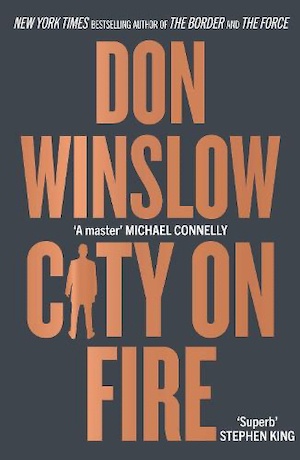 Organised crime and corruption are constants in Don Winslow novels, but rarely has he roamed the classic gangster territory of the northeastern United States. Nor has he previously underpinned his storytelling with classical inspiration – in this case dating back to Ancient Greece. City on Fire will remind you of stories like The Godfather and Goodfellas, and you'll spot a modern-day Helen of Troy in there straight away.
The setting is Providence, Rhode Island and the year is 1986. Danny Ryan works the docks and serves as tier two muscle for the Murphy clan, who run about a third of the organised crime in the city from the Glocca Morra pub in Dogtown. His father, Marty, used to be top dog but wet by whiskey the reigns slipped from his grasp. Now, John Murphy has a profitable truce with the city's larger Italian outfit, headed by Pasco Ferri.
Things heat up at an August clambake at Ferri's beach house up the coast. Pam turns the head of every man on the beach, and Liam Murphy in particular. Liam is John's spoiled youngest son and must get what he wants. He makes a move on Pam even though she is the girlfriend of Paulie Moretti, and Paulie's brother Peter is Ferri's heir apparent. Later that night, Liam is hospitalised by Peter and Paulie, and the war begins.
It's impossible not to be drawn in by Don Winslow's fluid storytelling and the characters he instantly conjures along the way. The genre and classical allusions he makes only add to the thrill for the avid reader. At the same time, this novel is accessible to just about everyone.
Solid, smart, dependable, brave – Danny is the hero of the tale. He shouldn't be a gangster, really, but seems destined for the top. His rise isn't easy, but those ahead of him do make all manner of deadly misjudgements. The Italians kill an Irishman, vengeance is sought with a bit extra, and chapter by chapter soldiers and captains on both sides are brutally slain. It goes on for months, through the winter and into 1987.
The trouble for the Irish is that the Italians have superior numbers, the most feared hitman in the state, and access to resources from Boston, Jersey and New York.
Winslow takes us right inside the families involved. Danny is married and duly he and Terri, Murphy's daughter, have a baby called Ian. All the day-to-day aspects of family life are here – tears, tribulations, supermarket runs – which just heightens the tragedy of what is wreaked on those involved. Everywhere lurks a dark secret – for example the reason Murphy's other daughter, Cassie, is in and out of rehab.
With each new battle, there's action, intrigue and bizarre twists along with eccentric criminals. A sniper from Northern Ireland is flown over to avenge a killing. You'll meet a mob psychopath with taste for male models. Described as 'a fire hydrant', Marty Ryan's bodyguard Ned Egan is reassuringly menacing. An opportunist FBI agent nibbles and goads, trying to flip anyone he can, and all the while the story is chilled by the dour New England winter.
Just a little smarter than the rest of the Murphy crew, Danny is nevertheless hampered by his loyalty to the cause. The irony is, he's always wanted out. He could easily walk away with his wife and child, but feels duty-bound to protect his father and the Murphys. After all, they raised him.
Eventually, a Trojan Horse arrives in the form of a huge drugs heist with a whole lot of double-crossing attached. If there's a chink in Winslow's Bronze Age armour, perhaps it's the back story he's given Danny's mother, an external force in the story who has slept her way from Vegas showgirl to millionaire queenpin, with senators, judges and captains of industry in her thrall. It feels a touch far-fetched.
Yet, Don Winslow is the consummate storyteller and at no point will you want to look away. Broad brush, fine detail, action, tension, raw emotion, consummate tragedy – it's all here to revel in. City on Fire is the first in what the author says will be his final trilogy. As the young Murphys foolishly holler early on, we say: BRING IT!
HarperCollins
Print/Kindle/iBook
£9.99
CFL Rating: 5 Stars