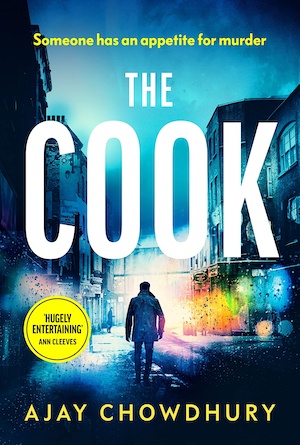 It is just a year since we met Kamil Rahman, once an up-and-coming detective in the Kolkata police force, more recently a lowly waiter in an Indian restaurant in Brick Lane, London, in the award-winning debut The Waiter. Now Kamil is back – and he's had a promotion!
Not for this man the heady heights of Detective Inspector – Kamil has been promoted to… cook at the Tandoori Knights restaurant. And to be fair, he is getting pretty good at it, although his friend (and fellow sleuth in the last book) Anjoli wouldn't dream of giving him any praise for his culinary efforts. She's in charge at TK while her parents are back in India, caring for a sick relative.
While the parents are away, Anjoli has taken the opportunity to bring the restaurant into the 21st century, and with a smart new decor and some nifty marketing tricks up her sleeve she is beginning to attract younger, wealthier customers. All she needs is a reliable chef… because when Kamil gets a whiff of a murder, he's off once again in pursuit of the perp.
The victim is student nurse Salma Ali, and Kamil and his new friend Naila find her body after calling around to drop off the phone she left while picking up a takeaway at the restaurant. Naila is also a student nurse at St Thomas's and when the police seem stumped, Kamil, Naila and Anjoli decide to investigate – the Three Duskyteers are determined to get to the bottom of things.
Meanwhile, two homeless people known to Kamil and Anjoli die suddenly and Anjoli smells a rat. Trouble is, no one else will listen when she says someone is killing them, not even Kamil, who is concentrating on taking his investigation – and relationship with Naila – to the next level.
Confused? It isn't surprising because there are so many balls in the air in this book that it is hard to keep up. Unlike The Waiter, the action here is all based in London – no flashbacks to life in India, which made Chowdhury's debut so enjoyable and gave the narrative extra spice and subtle changes of pace. Another unique aspect of book one were the many references to food, which left this reader reaching for the takeaway menu. Unusually for a book called The Cook, this time the culinary scenes were few and far between, leaving me feeling a little short changed.
There are some important messages to be found in The Cook, not least the fact that the plight of the homeless is so often brushed under the carpet and ignored. London's meaner streets are well portrayed, the contrasts between the haves and the have-nots revealed with a blunt realism that should make us sit up and think. That mirror on social injustice is one of the absolute strengths of this book.
The Cook had a lot to live up to after the plaudits won by The Waiter, and at the end of book one I was guessing that Kamil would join the Metropolitan Police. It hasn't happened and instead he is left on the sidelines once again, trying to run his own half-cocked show, interfering with witnesses and generally getting in the way. Yes, the guy gets results, but in real life there is no way the police would let an ordinary citizen have such leeway without calling him in and warning him off in no uncertain terms. There's much to enjoy in the Cook, but you'd do well to take this one with a pinch of salt.
London's Brick Lane also features in Vicky Newham's Out of the Ashes, featuring DI Maya Rahman (no relation).
Harvill Secker
Print/Kindle/iBook
£9.99
CFL Rating: 3 Stars