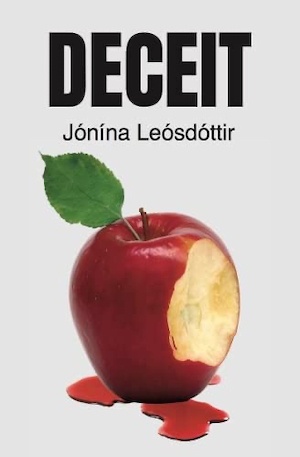 Translated by Sylvía and Quentin Bates — Icelandic crime fiction is the gift that just keeps giving, punching well above its weight in the international arena. This latest offering sees an English debut for the journalist, playwright and YA novelist, Jónína Leósdóttir. The title Deceit is apt because this is a book in which secrets and lies proliferate.
It's April 2020, there are already 53,000 dead around the world from COVID and Iceland is grappling with its response and what it all means for the small island nation. Meanwhile, Reykjavik detective Soffía has a knotty case on her hands – totally perplexing, in fact. Someone is targeting small shops and businesses by putting needles in fresh fruit. So far no one has died but it is causing distress and injury. Could it be blackmail, a hate crime, revenge, a terror plot or a crazy prank that's well out of hand? The police just don't know how to interpret what's going on. They fear this could be the prelude to something worse, but are at a loss as to how to identify the culprit or culprits.
So Soffía approaches her ex-husband Adam, a psychologist, for help. However, when she sets off to see him he panics. He's self isolating and Soffía doesn't seem to understand the new boundaries. Adam is English, he watches the BBC and it's spooked him. He originally followed Soffía to Iceland but didn't return to England when the marriage broke down. Is there still something between them?
Two women, partners, run a shop in the bohemian Rock Village district of the city, selling whole foods and healthy living. Their tormentor has sabotaged their fruit. Adam knows there have been similar cases but this is definitely strange since no ransom has been demanded. Adam advises that the police should deal with it quickly as it is likely to escalate. It does, other victims come forward, including the owners of a small hotel. A trawl of witnesses and victims doesn't provide any firm leads though, forcing Soffía to call on Adam's expertise more and more, hoping he will hit on a workable theory that leads to a culprit.
Meanwhile, Adam has his own clinical casework to deal with. One case in particular has his attention. Bjorn is step-father to Rebekka and he thinks she needs a psychologist's help and wants Adam to talk to her. Rebekka is 13 and has been diagnosed with Huntington's disease, a wasting illness and a certain killer. She's angry with her real father, to the point of wanting to kill him and commit suicide when living with the disease becomes too difficult.
As the story develops, the characters and their interactions come to the fore, and the nuts and bolts of the needles case are often peripheral to this. That may frustrate some mystery readers but the heart of the novel is the relationship between Soffía, strong and focused, and Adam, risk averse, calculating and hiding something. Their dance around each other, revealing their personalities and foibles, shows us they are chalk and cheese. This lightens the novel and make it an enjoyable character study.
If you thought it was too soon to deal with COVID in a novel, this might just persuade you otherwise. While the seriousness of the trauma and paranoia of the past few years is noted, the one thing that stands out for us is the humour Jónína brings to the topic. Yes, there's an edginess and atmosphere of foreboding because of the needle case and the growing world crisis but the absurdity of the situation lends itself to a few laughs too. One of the contaminated products is toilet roll, and given the controversy over the run on toilet paper at the start of the pandemic the reference is clearly whimsical.
Adam's big secret is well signposted but that's deliberate. The wall of Deceit can't be impenetrable and gripping at the same time, we have to see the chinks. If you're looking for the darkness often associated with Scandinavian crime fiction, it's not here. The mystery itself is lightly worn but the characters and the observations on life are nonetheless very sharp, but funny and entertaining too. Jónína explores not only the pandemic and isolation but relationships, sexuality, what motivates our behaviour and even pokes a little fun at the smallness of her island setting.
The translation is smooth as velvet and energetic, and although this is not a page turner it's a really thoughtful, cleverly written and engaging read that folds you in the personal dramas of Soffía and Adam.
Read our recent interview with Jónína Leósdóttir here.
Corylus Books
Print/Kindle
£3.79
CFL Rating: 4 Stars