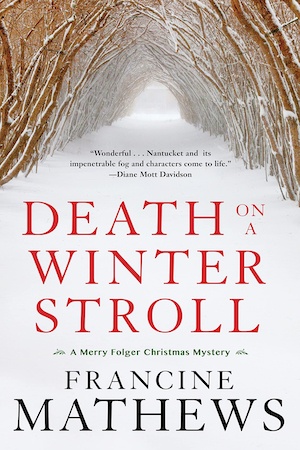 Reading Death on a Winter Stroll by Francine Mathews is like a vacation in an idyllic spot, at the most festive of times… with murder. It's a police procedural set on an island 30 miles off the coast of Massachusetts. This is not a location suitable for a remake of Agatha Christie's And Then There Were None. Not a bit of it.
Nantucket Island is a well populated and popular vacation destination, with a long seafaring tradition, fancy restaurants and shops, and year-round residents. In December, all those shops are brightly lit and open for business, pine and potpourri scent the air, Santa arrives in a Coast Guard cutter, and a very special event takes place, the three-day Christmas Stroll. For this tradition, everyone joins in, residents and tourists alike.
Stroll Season is about to start, and this year, two sets of visitors warrant special attention. First, the US Secretary of State, her husband, and his 23-three year old son by a previous marriage. Oh, and their demanding staff and omnipresent security detail. The second, much larger group is staying at a generous property outside town called Ingrid's Gift.
The owner has made his barn, house and guest house available to his old college friend. Carly Sonnenfeld needs a place to live and work while she's on the island with the cast and a pared-down crew of a new streaming television series. The project is Carly's big break, funded mostly by her much older husband, the wealthy Vic Sonnenfeld. Evidence begins to show that he is not a very nice man.
We have Hollywood stars, fawning assistants, a 19-year-old daughter – in short, a delicious cast of characters.
A prologue, which takes place 20 months before the main story, shows a lone woman making her way to a deserted, near-derelict cottage and, in subsequent chapters, you learn she's living there, year-round. No heat, no running water, no electricity. Is she in hiding? She certainly has secrets.
The chapters introducing these characters are entertaining, and give a good picture of each of person – for better or worse, in a few cases. You won't be surprised that the two young people find each other. Both being children of prominent parents, both having been through rehab programs for various reasons, they have a core of mutual understanding and soon become a refuge for each other. But they're not the only ones who made mistakes earlier in life. A few of the adults are inspiring for the ways they have recaptured their lives and are making the most of them, and a few are still paying the price for early errors, being badgered and threatened by the man who knows their secrets, Vic Sonnenfeld.
You're very aware of the ocean here, grey and enticing, wind and white caps. At times, it's as easy to get around by boat as it is by car. So, how did a murderer find his way to the reclusive woman's cottage, and why did he kill her? Who even knew she was there? She was a brilliant photographer, with a photo book featuring birds in the offing. This would seem an inoffensive pursuit. Yet, someone saw fit to destroy her camera equipment as she lay exsanguinating in the back yard.
When a second murder occurs, this one in the Hollywood community at Ingrid's Gift, the two shootings would seem completely unconnected. If there is a connection, it's not easy to see.
Police chief Meredith Folger and her deputy, Howie Seitz, will have a challenge getting information. The security detail around the Secretary of State doesn't cooperate, nor does the secretary's husband. He treats the local police like unsophisticated rubes. But the two young people discovered the photographer's body, and the chief is determined to ask questions of the young man. With the television personalities, the interviews are just as tricky, because she has to take into account that, well, they're actors.
The story moves along briskly over the course of the Stroll weekend with plenty of local culture and plot twists. It just goes to show that people who spend their lives looking at the world through the lens of a camera – not just the dead woman, but the film people as well – sometimes miss things around the edges. A fun, quick read, perfect for the season!
This is Francine Mathews's seventh mystery featuring Meredith Folger, and she also writes the popular Being a Jane Austin mystery series under the pen name Stephanie Barron.
You might also like the new A Christmas Murder of Crows by DM Austin or check out our 2019 roundup of dastardly holiday doings.
Soho Crime
Print/Kindle
£11.39
CFL Rating: 4 Stars