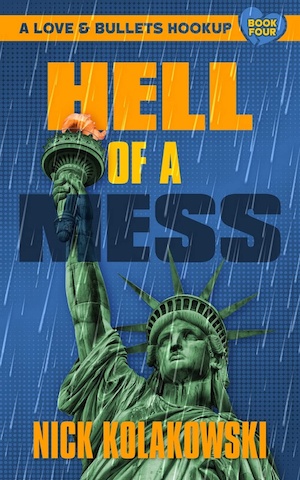 Hell of a Mess is number four in American indie author Nick Kolakowski's Love and Bullets series featuring Fiona and Bill, a married couple who are also New York criminals. Think Nick and Nora, but fighting for crime rather than against it.
Fiona is all-action, great with a gun and cool in a heist. Bill is totally in awe of her and more than happy for her to lead. He's also probably a little scared of her. Bill is into the scam and the con, and together they have all bases covered. In spite of this, they always seem to find themselves in trouble. It wouldn't be a Love & Bullets hookup without something going wrong.
At the start of the story things are looking up for our friends. Bill is holed-up in the New York penthouse of a billionaire on the run, enjoying the guy's credit card to the max, plotting a little treasure hunting on nearby North Brother Island. Meanwhile, Fiona is riding with her accomplice Fireball through New York to another penthouse. They have an inside man in the mark's security detail and are looking forward to a smooth heist. All they have to do is get in and get out before the hurricane hits. Two separate jobs, nice and simple, what could go wrong?
When Fiona is let into her target penthouse, she finds extra security guards and a weird atmosphere. The apartment is being used to harvest human organs and one victim, Jen, is handcuffed to a bed. The job has gone south, but Fiona is a professional who thinks on her feet and doesn't like to leave emptyhanded. She, Fireball and Jen are able to escape though they are pursued to a nearby subway station.
Bill, meanwhile, has problems of his own. His job has gone south too. His plans to discover the loot allegedly hidden on the island by The Dean, the old boss of the Rockway Mob, have to be put on hold. Three detectives have arrived at the penthouse armed with a search warrant and looking for its owner. But that's just a cover, the cops are dirty, come to clean the place out, and one of them recognises Bill. Frustrated at not hitting big in the penthouse, the cops take Bill instead and find his plans for North Brother Island.
Fiona, Fireball and Jen are rescued in the tunnels by the unlikeliest of saviours, an unnamed hitman who Fiona has come up against before. By this point you will have either bailed form Hell Of A Mess, or buckled in for the ride.
I've read and reviewed this author before and enjoy his way with action so it was an easy decision for me to make. Fiona and Bill are good company and, as you would expect by book four, they work well together. There's plenty of humour to go with the action and the dialogue – especially Bill's – has a zip to it. I admired the way the story flows, from Fiona and Bill on separate jobs, but coming together towards the end.
It would be wrong to characterise Hell Of A Mess to be something more than it is – a fast-paced read with plenty of action and dry humour – but often that's enough. Perfect for lovers of contemporary pulp fiction.
See our review of Love And Bullets, which collected the first three stories.
Shotgun Honey
Print/Kindle
£3.76
CFL Rating: 4 Stars