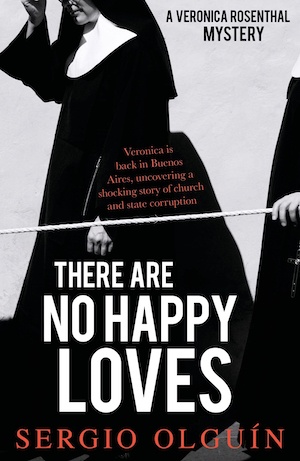 Translated by Miranda France — There Are No Happy Loves is the third crime thriller in a series by award-winning Argentinian writer Sergio Olguín, featuring the irrepressible and libidinous investigative reporter Verónica Rosenthal. It follows on from The Fragility of Bodies (2019) and The Foreign Girls (2021).
Once again, Rosenthal happens upon a potentially outrageous crime that piques not only her journalistic interest but her sense of justice too. Her affair with the lawyer Federico continues to splutter along tantalisingly. He is now working as a prosecutor and has acquired a new girlfriend, who also happens to be called Verónica. You know that won't last.
The prologue presents three seemingly unrelated vignettes. A children's author named Darío Valrossa is driving his extended family home one night when a terrible three-vehicle crash occurs involving a fuel truck. Everyone but Darío dies and he is left with terrible scars, the worst involving his mind and spirit. Verónica, minding her three-year-old nephew Santino for two whole days is reaffirmed in her decision not to have children when she loses sight of him in a grocery store. And, Federico, part of a stake-out at the port of Buenos Aires expects to confiscate a large cocaine shipment. Instead, the seize a truck filled with human body parts and dead infants.
Verónica's publication, Nuestro Tiempo, operates on a shoestring and Verónica herself is at a loose end professionally. She's writing poorly and hoping for a story she can really dig into. When Darío Valrossa comes to visit her, she recognises his surname immediately. Lucio Valrossa, with whom she had an affair several years previously, died while helping her investigate the crimes in The Fragility of Bodies. Now Darío has brought her his story.
He tells her about the late-night accident and his futile attempt to rescue his daughter Jazmín from the inferno. In the months since, he has come to believe his estranged wife rescued him from the car and that she and Jazmín survived and escaped. He wants his daughter back.
The authorities were quick to pronounce everyone dead. The remains were scant. Too quick, perhaps? Nobody want to hear Darío's theories, much less help him. They consider the case neatly closed. He needs someone who will investigate – a journalist – and remembers his cousin Lucio's connection to Verónica.
When she suggests that DNA analysis might settle the matter, Valrossa explains that Jazmín was adopted. And under somewhat iffy circumstances. Those circumstances prove iffier and iffier as Verónica delves into them, involving prominent members of the Catholic Church.
Several previous investigations of an illegal adoption ring had come to nothing, mostly because the investigators and their contacts died mysteriously. People involved in Federico's body parts case are also in the habit of suddenly dying. Since Verónica and Federico are barely speaking to each other, it takes the determination of a computer hacker they're both using to connect the pieces and bring the parties together. It seems they're uncovering different facets of the same far-reaching and lucrative criminal enterprise.
Most of the novel follows Verónica in her increasingly dangerous investigations. Her apartment isn't safe, and she moves temporarily to a distant Buenos Aires neighbourhood. Even though Federico is more present in her life than he's been in several years, she doesn't miss the chance for a sexy romp with a young bartender and his roommate. The author isn't censorious, though, and these escapades never end in broken crockery or hearts.
The cast of secondary characters provides Verónica with interesting colleagues and opponents, including María Magadelena, an intrepid former nun, Patricia, who is Verónica's long-suffering editor at Nuestro Tiempo and the inept reporter María Vanini, all the villains, including a slimy archbishop and a nun with a heart of granite, Federico's other Verónica (a bit of an airhead) and Verónica's friend Paula. Her two older sisters have pretty much walk-on parts, but you sense that growing up in that household must have been like living in a three-ring circus. Not only are the characters well-constructed, the author gives them significant issues to sink their teeth into, which they do with gusto!
For more Argentine crime fiction try Like Flies from Afar by K Ferrari.
Bitter Lemon Press
Print/Kindle
£5.79
CFL Rating: 4 Stars