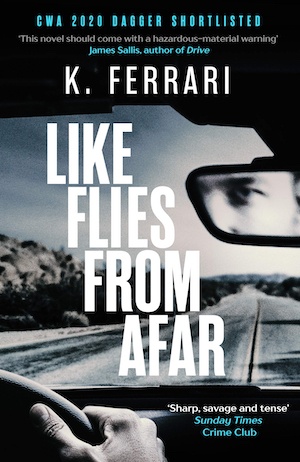 Translated by Adrian Nathan West — It's difficult to know where to begin when discussing this short novel from Argentina. Is it a sharp piece of pulp exploitation? It is certainly full of sex, drugs and violence, and the quotes at the beginning from David Goodis and Jim Thompson suggest Ferrari is at least referencing pulp. Is it a morality tale? Well, it's a novel about a successful but amoral man brought down by his own vanity and unscrupulous behaviour. At the same time it's a dramatic character depiction of a man in crisis with an unforeseen ending, so perhaps something more literary is being attempted? Perhaps it's all this and more, or maybe Ferrari is pulling a trick on his readers – asking them to look for meaning when there is none.
For middle-aged Buenos Aires businessman Luis Machi, the morning begins in a way I suspect so many of his do, with cocaine and booze fighting a losing battle with the Viagra in his body as his secretary performs a sex act on him in his office. Melchi is yet to return home to his wife and family from the night before. He views sex with the beautiful young women he employs almost as a right, something which he is entitled to because of his success. Whether it be affairs, drugs, respect or expensive clothes, Melchi feels entitled to them all. His success in business justifies everything he does, and everything he does is justified if it brings him more success.
On the way home to his wife, Mirta, one of very few sympathetic characters in the novel, Melchi gets a flat tyre. Tacks have been laid across the road. Exasperated by the delay from his breakdown service, Melchi pops the trunk to retrieve the spare tyre. Inside is a male corpse handcuffed to the inside of the trunk, unidentifiable because his face has been blown off. As Melchi drives around the city looking for a spot to dump the corpse, an argument rages inside himself: is he a victim of chance, his expensive BMW an unfortunately convenient spot for the murderer to hide his victim, or is he being set up? Melchi mentally calls up his enemies one by one, and there are plenty of them.
Like Flies from Afar is a fast-paced blackly comic story as an increasingly frenzied Melchi makes his way home, trying to fit together the facts with his own suppositions about the loyalties of his staff, family and his business associates. It's a story that could have been written in any major city and its brevity, tension and single setting of the BMW's interior would make for a great film adaptation.
The novel is a cast of grotesques, but the speed of the storytelling didn't leave me enough time to be bothered by that. In a longer novel, I think I would have needed a character I felt more sympathetic to. The ending, which is necessarily abrupt, gives some clues as to just how bad Melchi's day is to get, but I won't spoil it for you here.
Read it for yourself.
Originally published in K Ferrari's native Argentina in 2018, it's his first novel to appear in English translation.
Also see our recent review of Repentance by Eloísa Díaz, set in Argentina during some of the country's darker years.
Canongate
Print/Kindle/iBook
£7.12
CFL Rating: 4 Stars