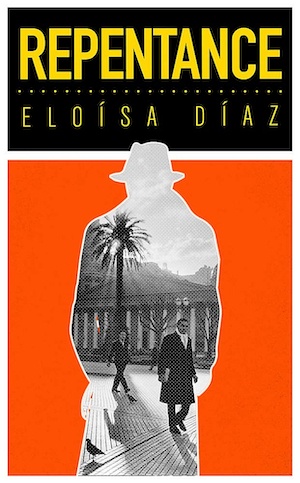 Eloísa Díaz's riveting new political thriller, Repentance, takes place during two tumultuous periods in Argentina's history. The present-day of the story is December 2001, when riots in Buenos Aires and elsewhere will lead to the resignation of the country's president. These disturbances were the culmination of popular anger over the country's sharp economic decline, brought about in part by years of poor management, hyperinflation and high unemployment.
Events of 2001 alternate with flashbacks to 1981, the midst of Argentina's Dirty War, a terrifying era in which the military, security forces and right wing death squads kidnapped, tortured and murdered tens of thousands of supposed left wing sympathisers – students, journalists, writers, trade unionists and many other groups. Among those murdered was the younger brother of the book's protagonist, Inspector Joaquín Alzada of the Policía Federal.
Alzada is from that tribe of policemen that resists the authority of superiors, which explains why, even though he's in his 60s, he's never risen above his current rank. He'd like to retire, but the pension fund is out of money.
He's holding down the fort at the police station with a newly assigned deputy, Orestes Estrático, who is eager to please, alarmingly wet behind the ears and insufferably by-the-book. Almost everyone else is on riot patrol duty, when Estrático ushers into Alzada's office a respectable-looking couple who want to report a missing person. The wife's sister hasn't been heard from since the previous evening. Alzada cautions that the police aren't interested in adult disappearances of less than a day, but when he learns the missing woman's family name – that of one of the country's wealthiest landowners – his attention is captured.
His superiors don't want him spending time on this. After all, what kind of investigation is it? A missing person? Not enough time has elapsed. A murder? There's no body. Unless… Alzada and Estrático consider the body of an unknown woman discovered that morning in a dumpster behind the city morgue. Could they pretend she and the disappeared woman are one and the same?
They have a single clue to the disappearance. A license plate number linked to a government bigwig. Now the top brass really don't want him to pursue the case.
While Alzada and Estrático stumble along, trying to investigate despite the constraints, the inspector is haunted by memories of his brother, a naïve university professor who acted as if he was immune to arrest until one night when he and his wife joined the disappeared. Visiting his brother's empty and ransacked apartment, Alzada and his wife Paula discover their toddler nephew Sorollo hiding under his bed. For the next 20 years, they raise him like their own son. The presence of Sorollo, who seems to have inherited his father's reckless determination to engage in political resistance, keeps the fate of his brother and sister-in-law top-of-mind for Alzada and stokes his anxieties.
Alzada is an engaging character, and how he goes about discovering what happened to his family in 1981 and to the missing woman in 2001 is told from a close-in point of view. You're privy to many of his thoughts. They're often wry observances at odds with the politically correct demeanour he adopts as a survival strategy. Especially enjoyable is young Orestes Estrático, who has talents Alzada doesn't expect. In the beginning he patronises the young officer, an attitude that gradually blossoms into respect. Also noteworthy is Alzada's wife Paula, the family diplomat, quietly keeping everyone and everything on track.
Eloísa Díaz was born in Spain of Argentinian parents. Repentance is her debut novel, and it's a beauty. Novels in which detectives operate under totalitarian regimes are often set in Nazi Germany, the Soviet Union or East Germany, but Repentance offers readers a new experience as it looks at Argentina under the three generals.
You might also like The Fragility of Bodies by Sergio Olguín or David Young's books, including the latest, Stasi Winter.
Weidenfeld & Nicholson
Print/Kindle
£7.99
CFL Rating: 5 Stars