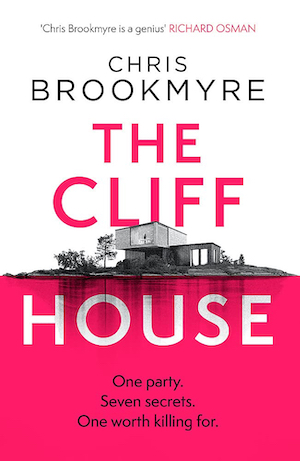 As much as we all love crime fiction, sometimes it can get stuck in an irritating groove. Remember when every other book had 'Girl' in the title? Recently there has been an onslaught of dodgy new neighbours causing havoc in quiet suburban cul-de-sacs. And as for women going off to somewhere remote for a hen party – where's the eye-roll emoji when you need it?
The latter sprang to mind when I scanned the blurb for The Cliff House, the latest standalone from the pen of Scottish crime author Chris Brookmyre. Group of women? Check. Remote location? Check. Hen party? Check. Maybe it was time to crack open a bottle of fizz and drown my sorrows… But wait! This guy is both a Theakston Crime Novel of the Year and McIlvanney Prize winner, so could he bring something new to the table?
The answer is a resounding YES, because while this book does contain some familiar tropes, it also has the power to knock them – and the reader – for six. In other words, be prepared for plenty of surprises.
Jen is soon to be married to the handsome Zaki. He seems like the perfect husband-to-be but Jen has been bitten before and still doesn't completely trust him. In fact, as this story unfolds, we realise that Jen doesn't actually trust anyone. What happened in her past has been affecting her life ever since.
No matter, she has a hen do to think about. She and six other women on a remote Scottish island for a weekend of fun, fizz and fancy meals – what could possibly go wrong?
Some of the group helicopter into Clachan Geal, while Jen's oldest friend, Michelle, comes over by powerboat. She's a big-name pop star these days and has been in 'retreat' on a nearby island and she and another woman in the party have history. This is a disparate group; some are friends of Jen's because they play tennis together, while Beattie is the sister of Jen's late first husband. And then there is Samira, who nobody knows. She's Zaki's sister, a new mum in need of a break, and she was foisted upon Jen by her fiancé.
Not quite a tight-knit group then, but bonds tighten when a murder is committed and Samira is taken hostage. Or do they? Because gradually Brookmyre cleverly reveals that every woman on the island has a secret – and some of those secrets involve other members of the party. The tension ratchets up to 11 as the women split into pairs and set off to get help. Believe me, you won't guess what's coming next!
These women have all done wrong in one way or another, but it is to the author's credit that you still find yourself fighting their corner. Brookmyre's skill at sinuous plotting takes centre stage as we're treated to shocking development after shocking development and the chapters fair fly by. The remote island setting is lovingly rendered and essential to the plot as a whole – but not just in the ways you might imagine. As I said earlier, this is not your average hen-party-goes-awry crime novel. Grab a copy and you'll see what I mean.
The Cliff House is a delicious slice of crime writing, and a book that fans of the psychological thriller will lap up. Settle back and revel in the twisted web of secrets and lies created by an author who has miraculously breathed new life into a tired old trope. It's only August, but it has me thinking about my books of the year already – bravo, Mr Brookmyre!
A remote island setting also features in Adrian McKinty's The Island.
Little, Brown
Print/Kindle/iBook
£11.49
CFL Rating: 5 Stars