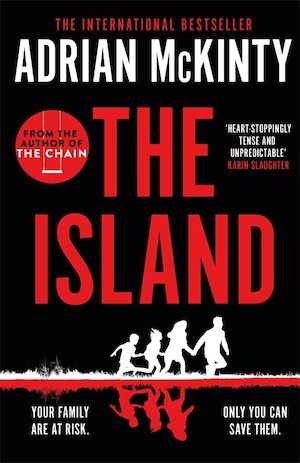 You know what: avoid islands. A piece of land surrounded by water can only mean chaos and misery. The Island of Dr Moreau. Treasure Island. Love Island. Britain itself is… well… you know. And in his latest standalone thriller, Adrian McKinty creates an island that manages to outdo all of the above. Dutch Island is a primal place, baked dry by a white-hot Australian sun, its residents a law unto themselves, and hemmed in by shark-infested waters.
However, to Tom Baxter, his new wife Heather and his children Olivia (14) and Owen (12), Dutch Island seems the perfect opportunity to see some wild koalas and experience the real Australia, off the beaten track. Along with a German couple in their 60s, they've paid Jacko and Matt a wodge of cash to ferry their car a mile or so across the strait to the island. It will bring a little extra interest to their drive along the coast, before returning to Melbourne where Tom will deliver the keynote at a conference about hip replacements in a few days.
With a couple of dirt roads criss-crossing it, Dutch Island consists of rough grassland and brush, dried up riverbeds with some trees here and there. It's a bit of a washout in sightseeing terms so having been strictly told to stick to the coast they venture inland a bit in the hired Porsche Cayenne. Tom isn't concentrating, and out of nowhere a woman on a bike swerves in front of their vehicle and is run over. She has a hearing aid on and clearly didn't expect there to be a car on the island. Now she's dead. We are in classic noir country where the Baxters can do the right thing and face the consequences, or doing the easy thing and get the hell out of Dutch.
With Tom panicking, Heather decides to conceal the body in the brush and drive back to the ferry.
It's hold your breath time as the ferry pulls away from the dock… but then a call comes through on the walkie-talkie. They're not getting away with it. Instead of informing the authorities, the O'Neills have their own ideas. The law here is dictated by Ma O'Neill, who arrived on the island a lifetime ago from Ireland. Any trace of civilisation has been desiccated from her soul by the scorched earth. Her sons and daughters, their partners and offspring, live together like a clan centuries ago in the old country and she's the chieftain.
Ma has to think. Killing the family could bring unwanted attention. And perhaps Tom's offer of $500,000 for their freedom is legit. But one of their own is dead. Matt, Jacko and the others have their say, and negotiations between Ma and Tom are just about concluded when the dead woman's husband appears. Distraught and furious, he stabs Tom in the side and now everyone's trouble has doubled. The O'Neills might have to kill the Baxter family and the German tourists, who are still on the island and have seen too much. Locked in a barn with the children, Heather find a way to escape and save their lives.
Miraculously, they do escape and run off into the bush. Now it's a case of surviving in the heat without food or water, evading the O'Neills who are hunting them like animals, and somehow getting off the island or alerting the authorities. The problem is that both children resent Heather, who is much younger than their father and has an unusual background herself. However, that background could help – she was raised by a US Army veteran and grew up in an isolated community in Washington State with some similarities to the O'Neill setup.
The fight for survival is brutal and visceral, full of random violence, good and bad luck, lots of chaos and a great deal of perseverance on the part of Heather, Olivia and Owen. All three must discover themselves, in a sense, and reformulate their relationship. The O'Neills have all the wild and uncivilised menace of the woodsmen in Deliverance, and McKinty conjures moments of terror and extreme brutality. You quickly forget Heather stupidly hiding the body and root for her in hand-to-hand machete combat, blowing things up and more…
The way Heather and the children develop as characters is the gem at the heart of this story. It's sensitively done in juxtaposition with the crazy, hard nature of the O'Neills. The latter are a little harder to believe in. Are they a force of nature? A force of evil? Have they descended to savagery a la The Lord of the Flies? Throughout you'll wonder why, if they're that mad, Heather thinks she can negotiate with them. She has seen first hand what they will do. They're also terrible at hunting, even though they know the island like the backs of their hands.
Texturing this peril and action, McKinty draws on a range of references including Australian history and Aboriginal culture, as well as Heather's indigenous American heritage. There's also a little Celtic mythology mixed in, with a crow representing Morrigan, the goddess of battle and bloodshed, eyeing Heather as she creeps around evading the O'Neills. As Heather's confidence grows and she takes the fight to them, she becomes like a banshee in the night, as well as the terrifying Aboriginal spirit creature, the bunyip.
This novel is very different to The Chain, Adrian McKinty's 2020 hit. It's highly readable, relentless, imaginative and different. Just what you'd look for in a standalone thriller and a great summer holiday read… unless, perchance, you're going to an island this year.
See also The Marsh King's Daughter by Karen Dionne for a wild ride in the Michigan wilderness and a strong female lead.
Orion
Print/Kindle/iBook
£6.99
CFL Rating: 4 Stars