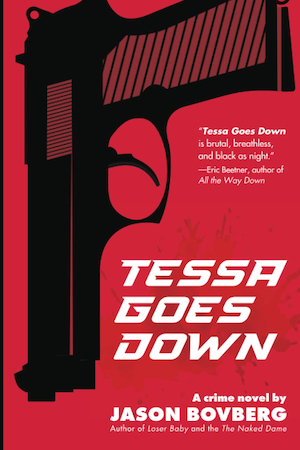 If you can judge the health of a genre by the state of its independent publishing, then crime fiction is doing just fine. The American independent scene has never been healthier. Authors like Nick Kolakowski, Eric Beetner and Tom Pitts continue to deliver the goods with a pulp-inspired aesthetic which places a heavy emphasis on storytelling and plot without neglecting character. Crime Fiction Lover enjoys covering this scene and we think in Jason Bovberg and Tessa Goes Down we've found another winner.
This southern border noir – with a detour north at the end – is really about two people and the chemistry between them. Floyd Tillman Weathers is killing time in a small Texan town called Malvado, just an hour or two from the Mexican Border. His routine is limited to motel room to gas station to diner to motel room. Quite what Floyd is doing there is only slowly revealed, but it's obvious from his manner that even if Floyd isn't a flat-out criminal, he's at least become familiar with walking that fine line between citizen and outlaw in his 27 years.
What knocks him out of his routine is the sudden appearance in town of Tessa Rae Jayne. She's a few years younger, black to his white, beautiful, mysterious and sexy. She's also trouble. In fact, exactly the kind of trouble that Floyd's boss told him to steer well clear of when he sent him down to Texas to lie low in sleepy old Malvado. But then, if Floyd didn't keep his brain in his pants, we wouldn't have much of a story. I mean this is crime fiction… of course there's a femme fatale!
Tessa is running from trouble too, though of a different kind to Floyd. One important difference between their situations is that Tessa is bringing trouble with her. Her Volkswagen Beetle may have been eating up the miles from Illinois, but she's been followed all the way. Two men, criminals for sure but loser types, are the first to catch up with her (and Floyd). They're easily dispatched, but whoever comes next won't be such a pushover.
Bovberg writes the couple with chemistry, and the novel is most alive when they are together. The pace flags just a little in the middle section when they are separated. He wisely gives the couple enough time together to form a bond, so that when Floyd has to risk his life for her it seems realistic that he might. Their crime-adjacent lives represent another good choice. I found enough good in them to want to engage with them, and enough street-smarts to believe they could overcome their adversaries.
The prose is stylish in a way my inner Elmore Leonard fan enjoys, the novel is short but long enough to tell an entertaining story and there is an improbable amount of sex, so much so that that I had to reconsider my original interpretation of the meaning of the title. Bovberg sidesteps the politics of their interracial relationship for the most part, but does address it with a well-written scene between Tessa and the elderly motel owner. It shows what a capable writer the Colorado author is, and I would have welcomed more of this.
All in all, Tessa Goes Down is as hot as the Texas weather.
Dark Highway Press
Print/Kindle
£3.20
CFL Rating: 4 Stars