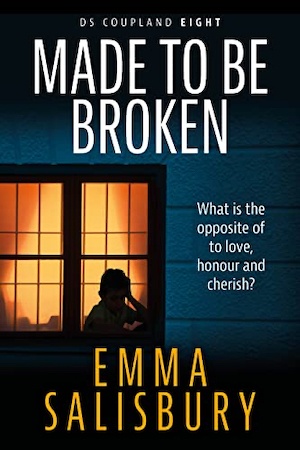 DS Kevin Coupland has become a mainstay in British indie crime fiction. Based in the city of Salford – part of Greater Manchester – he's appeared in seven previous novels by Emma Salisbury. In Made to Be Broken, this cynical, sarcastic, driven detective makes his return and tackles a murder case which leads on into a new storyline about domestic abuse. The author takes a daring approach, but that's the glory of indie crime fiction. Here, writers exercise their freedom to do things a bit differently – and without experimentation, where would the invention come from in this genre?
We've previously reviewed When Darkness Falls and Flesh and Blood from the DS Coupland series.
The opening chapters are brutal. A man is pushed into the path of a truck and flattened in the process. Scarcely has Adam Sinclair been peeled off the pavement than Coupland and his team are peeling back the layers of the man's life. On the face of it, who would want to kill the mild-mannered Adam, a financial advisor and wealth manager near the top of the tree in a Salford financial firm?
Soon a whole web of connections begins to appear. Sinclair has done time. He killed a woman and child while drunk driving – a hit and run. He only turned himself in many years later due to the guilt. The problem for Coupland is that the victims were the wife and daughter of Joe Simpson, AKA Flemish Joe, a rough sleeper and Falklands vet Coupland has tried to help in the past. He can't believe that Joe would kill Sinclair, even though the tragedy is partly why Joe is on the street. But where there's motive there's a suspect and Coupland's boss, DI Mallender, wants Joe questioned.
The botched handling of the arrest breaks the trust between Joe and Coupland, and Salisbury shows us that even toughened cops like Coupland must question how the police operate when dealing with vulnerable people.
But there are other dimensions to the case, taking it into the higher echelons of Salford society. Sinclair was gathering information about the dealings of a head partner at his firm, Dominic Neilson. Suddenly, a posh and proper wealth management firm has connections to organised crime, fraud and money laundering. Neilson is a force to be reckoned with and there's every reason to think he could have killed Sinclair.
Via Coupland and his team, Salisbury leads us this way and that while also bringing us up to date on the detective's personal life. Coupland and his wife now live with their daughter, and their grandson, nicknamed Tonto. The five-year-old is the result of a relationship between their daughter and a vicious killer Coupland came up against in the past. That's one of the things that makes him a prickly customer. The other is his own upbringing. With his sisters asking him to help with his elderly father's care, Coupland has to face up to memories of the domestic violence he witnessed and experienced growing up.
Perhaps this is why he senses the unusual atmosphere between Dominic Neilson and his wife Alicia. As readers, we can see what goes on in their home. The pressure the police are putting Dominic under as they hunt for Sinclair's killer is pushing him to the edge. Alicia is in real danger. And this is where the real tension and suspense is generated in Made to be Broken. Again, Salisbury paints a painfully realistic picture of how British policing can fail to protect people who need protection.
Lack of resources. Oversights. Procedural failings. A lack of inter-agency communication. A flawed legal system. All of these things come to bear on the story, which sees Coupland trying to work alongside his Domestic Violence Unit colleague DS Harper. It's certainly not the story you expect Sinclair's murder to turn into.
Does it work? For the most part, yes. Salisbury writes in an edgy, witty style that suits Coupland's cynical outlook. Contemporary life, the streets of Salford and police procedure are all convincingly represented. However, it still feels like two separate stories. I wonder how the book might have read had the two conflicts – the hunt for a murderer and Neilson's escalating violence – taken place at the same time. It's the domestic abuse case and the insight the author brings on this topic that are most powerfully presented in this book. A gripping read – can Coupland save the day?
The way Emma Salisbury writes Coupland is a little reminiscent of Susan Hill's Simon Serrailler books.
Self-published
Print/Kindle
£3.99
CFL Rating: 3 Stars