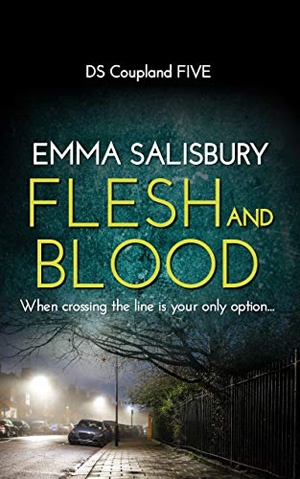 Written by Emma Salisbury — It's always fun to make the acquaintance of a new author and series, and although this is the fifth book to feature DS Kevin Coupland a newbie Emma Salisbury reader will soon fit right in.
Flesh and Blood has lots of teeny similarities to the work of Cara Hunter, Carol Wyer and Keith Nixon and will appeal to the fans of all these writers. There's even a touch of the Happy Valley about it, with Coupland's daughter Amy having had a baby to a known villain. But make no bones about it, Coupland is a unique character who is often pretty hard to get along with.
We're in Salford, where a residential home for vulnerable adults has just gone up in flames. It's arson and has taken the lives of several residents and a member of staff – an inside job, someone with a grudge, or just some scroat who likes the smell of burning accelerant in the morning? It's up to Coupland and the rest of the team to find out. Before long, though, the investigation is destined to come far too close to home…
Flesh and Blood is a clever title, denoting both a feeling of danger and of family. A heady blend, I think you'll agree. And while at home Coupland and wife Lynn are coming to terms with sharing their house with daughter Amy and the as yet unnamed baby boy who in the interim has been dubbed Tonto by his granddad, at work he has a tricky case to deal with, alongside an upcoming court date and an appearance before a disciplinary committee.
Keeping up as the narrative skitters between all four storylines can take a but of concentration, but this author displays a steady hand at the tiller and impressive skills in the dialogue department. Characterisations are also bang on target, as is the sense of place. Salisbury certainly doesn't sugar coat Salford and its many social ills, but there's an unerring sense of community that still rings true.
As for the plot, well those four diverse threads get a little tangled at times but it's all held together by a solid slice of police procedural and a case that will keep you guessing. One of the victims of the fire is the sister of a local crime kingpin, and his interest in the investigation adds a frisson of danger and more than a few complications for the officers trying to sort through a mountain of evidence. Another hiccup in the smooth running of things is the naked man who opens the book, running into a local newsagents for sanctuary when a group of local yobs begin filming him in his birthday suit. Who is he, where has he run from and why doesn't he have any clothes?
On first acquaintance I found DS Coupland a complicated and slightly irritating character, but as the pages flew by he started to gradually grow on me. He's certainly a man of contrasts, on the one hand he's to be found sitting at the bedside of a burns victim as they breathe their last, on the other he's up on a charge for head-butting a suspect. It's obvious he loves his family, but little Tonto is stretching it to the limits as he struggles to come to terms with the identity of the man who fathered the little boy.
Flesh and Blood is a book that will definitely appeal to lovers of police procedurals, and to readers who like to be kept on their toes. It finishes on quite a cliffhanger so I'm sure another in the series is coming along soon. I for one am looking forward to it!
For more crime fiction based in North West England, try The Sleepwalker by Joseph Knox. Police procedural fans will enjoy Cara Hunter's series featuring DI Adam Fawley. Start with the opener, Close to Home.
Self-published
Print/Kindle
£3.99
CFL Rating: 3 Stars