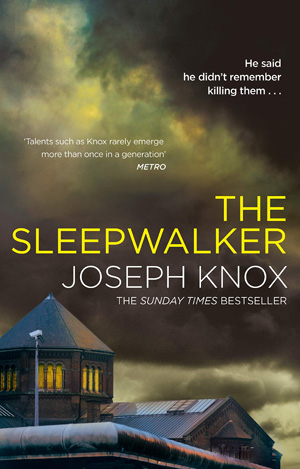 Written by Joseph Knox — Police detective Aidan Waits returns for another slice of Manchester noir and it's as thrillingly dark as ever.
Waits is newly promoted to detective sergeant and has been pulled off nightshift to guard a mass murderer, Martin Wick aka The Sleepwalker. Wick is terminally ill and has been transferred from Strangeways to spend his final days in hospital. He was named The Sleepwalker because he was found by police covered in the blood of the butchered Moore family, but claimed he had no recollection of his crime.
Wick's notoriety is such that he is housed in a disused building, watched by an armed guard, both to keep him from the public and for his own protection. Waits, though, is not there to guard him. One of the Moore children was never found. The police are still hopeful that he will reveal the truth about her before he dies.
Then a brutal and audacious attack leaves Wick dead, along with one police officer, with another fighting for his life. Waits was late to the scene, but in his dying moments, Wick protested his innocence.
Waits expects to be back on nightshift but one of his superiors has other plans. He wants Waits to carry out a shadow investigation of the crime, which has been allocated to another team. Despite his disgrace, he is teamed with DC Naomi Black, a gifted and blameless police officer. The only explanation he can think of is that she is there to investigate him.
Meanwhile his boss suggests, and it's not entirely wishful thinking, that Waits may have been the intended target of the hit. Waits has some thoughts on that, but he isn't in a hurry to investigate it. He's more intent on making his escape, not just from the vigilance of DC Black, who is wise to all his attempts to elude her. He wants to leave everything behind.
There are three interlinked strands to this story – the murder of the Moore family, the murder of Wick and the police guard, and the ongoing personal strife of Aidan Waits.
Waits begins with the Moore family. They were survived by Frank Moore, the father, who was estranged from his wife at the time. He has carved out a new life as a grief guru, offering expensive seminars to vulnerable people who have experienced loss. He is also still in contact with the detective who led the investigation and who has written a book about the case.
The investigation into the death of Wick leads him to look at the police officers who made up the armed guard. The failings in police security are further highlighted when a photo of Wick on his deathbed appears in the media. Confronting an armed police officer is never a smart move, especially as there is an unrelenting sense of corruption wherever Waits goes.
Waits' own story becomes ever more twisty. Building on the revelations in Sirens and The Smiling Man, he has demons to confront – and they are forming a disorderly queue.
Knox's atmospheric writing has a dark theatricality that transcends realism. Although Waits is a police officer, his semi-detached role frees him from the constraints of the police procedural. The way in which he contrives to unmask the murderer of Wick owes more to Sherlock Holmes than the Police and Criminal Evidence Act. He moves freely through the darkness, constrained only by the brutal power players around him and his own twisted history.
Knox's prose is incredible, with a rhythm of its own and sparks of humour lighting up the bleakness. Every character, however minor, is beautifully drawn. From the spice dealer with a passion for Sinatra to the prisoner craving conversation about Dostoevsky, there's compassion underlying the painstaking drawing of cruelty and its effects.
The Sleepwalker is vivid and immersive, like tuning into someone else's nightmare. You won't want to wake up before the end.
Read our interview with Joseph Knox.
Doubleday
Print/Kindle/iBook
£7.99
CFL Rating: 5 Stars