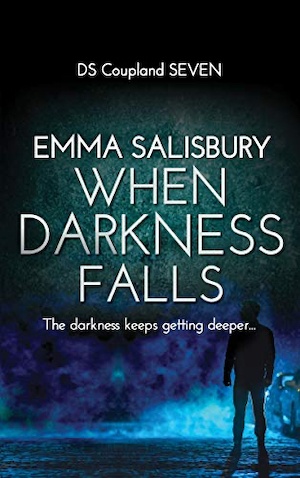 We first reviewed Emma Salisbury around this time last year, when Flesh and Blood was published. Now DS Kevin Coupland is back in another Salford-based police procedural, the seventh in the series.
And When Darkness Falls is well titled, because the subject matter of this one is pretty bleak. A teenager from a fairly ordinary family goes missing, then is found murdered. She's been raped by two men, her body discarded in a shallow grave. Carly King had good parents, a loving home and lots to look forward to – now her life has been snuffed out and Coupland and his team are determined to catch the culprits.
The investigation takes a worrying turn when they uncover another case with striking similarities. Except the victim in the earlier instance was a girl in foster care, and the officers looking into that death had seemingly dismissed the case as not worth their time.
That's the cue for Coupland and his oppos in another part of Manchester to butt heads. It soon becomes clear that DI Little and DS Clarke are lazy, racist and misogynistic – everything that Coupland detests. It's the recipe for some fraught moments, not least when Coupland's second in command, Acting DS Chris Ashcroft is involved. He is black, and Little and Clarke are odious in their treatment of him.
But back to the case in hand, and as Coupland and his team dig deeper they begin to suspect that the girls were taken to order and snuffed out to pander to the whim of someone who paid well for the privilege. We're in the realms of the Dark Web, and it's a murky place to be – especially when telling videos are found of the two victims. Then, just when you think you've reached rock bottom, a little girl goes missing – could she be the next victim? It doesn't bear thinking about, but as the police frantically search for little Kayleigh the pieces begin to fit together and the picture they create is a truly shocking one.
Emma Salisbury is an accomplished writer who certainly doesn't shy away from difficult subjects. She's also – bravely – set this book is the recent past, so lockdown, masks and social distancing all get a mention or two. I've been purposely steering away from pandemic fiction, but in When Darkness Falls Salisbury gets the balance just about right – it bubbles away in the background, rather than taking centre stage.
I live Kevin Coupland. He is a stoic and dogged copper, who cares about both his colleagues and the people they are trying to help, but there's nothing po-faced about him and he can be as grumpy as the next man. Like so many crime fiction detectives he is a bit of a renegade – a well-worn plot device that is getting a bit thin. Thankfully this is a man with a home life too and the moments where Coupland is with his little grandson – a child nicknamed Tonto – are sweet without being overly twee or sentimental.
If you're on the lookout for a new series of police procedurals, then the DS Coupland books are definitely worth adding to your TBR pile. They are packed with gritty authenticity and realism, but with that dash of humanity that brings everything together and tempers the at-times-harrowing story line. Shoring up the compelling crime narrative is a pleasing attention to detail that brings the actual police work into vivid focus – and those behind-the-scene moments feel true to life.
Also see the work of Carol Wyer, interviewed here. More crime from the internet's darkest recesses can be found in This is Gomorrah by Tom Chatfield.
Self-published
Print/Kindle
£3.99
CFL Rating: 4 Stars