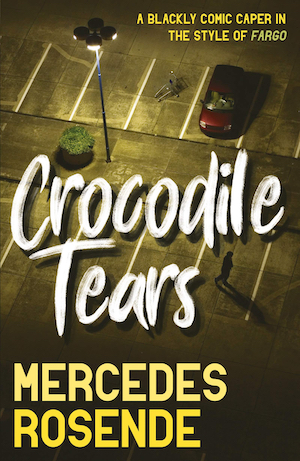 Translated by Tim Gutteridge — One of the pleasures of reading international crime fiction is heightened awareness that the diabolical imagination is alive and kicking in authors everywhere. Uruguay probably isn't at the top of your list of places where clever crimes are hatched – with cleverer police detectives on the prowl – but Mercedes Rosende's new book will clue you in.
It's dubbed 'a blackly comic caper in the style of Fargo.' You may object to the descriptor, caper, as being too weighted on the comic rather than the 'blackly' side. But if you think of a caper as involving slightly dim criminals who can't quite get anything right, this is surely one.
Set in Montevideo, the story begins in confusion. Diego is in an overcrowded and dangerous prison, charged with a recent kidnapping. Right away, you learn the slippery lawyer Antinucci is about to spring him. It seems that Ursula López, wife of the kidnapped man, says Diego never contacted her, never asked for a ransom. Diego doesn't understand it; the ransom was paid, and his partner absconded with it. Still, he can't be convicted and, as Antinucci tells him, he is just a patsy.
Before long, you realise two very different women named Ursula López are intertwined in the story, and it's hard to see how everything can work out well for them both. The situation looks increasingly perilous for Diego, too, whether he gets out of prison or out. A vicious inmate, nicknamed Hobo, demands that he help carry out a crime-in-the-planning as payback for assuring Diego's safety in prison and finding Antinucci for him. Diego is released, and before long, Hobo is out too, determined that Diego make good on his commitment.
The criminals intend to hijack an armoured security truck en route from a casino to the bank, and the many, many ways this plan could go wrong never enter into the planning. Perhaps they're lulled into a false sense of safety because the heist apparently goes pretty far up the city's social ladder. For this reason too, Diego daren't back out.
Meanwhile, Montevideo police Captain Leonilda Lima is plodding along, routinely assigned the dregs of her department's work – unless of course, an investigation turns out to be more promising career- or publicity-wise than first thought, in which case her male supervisor snatches it back. The case she's currently working on involves a murder at the prison that brings her on course to cross paths with Hugo and Diego and, eventually, the Ursulas.
This book has a lot going on and is a quick read. I found the women characters, Ursula and Leonilda, especially interesting, even though, like much fiction by non-English authors, it's a little light on description. However, Ursula and the origins of her binge-eating are well described and painful. They're both women whom the men in their lives dismiss as unimportant, yet they're the ones who keep the events of the story moving in unexpected directions and are responsible for much of the wry humour.
Glimpses of Uruguayan life peep through – like Antinucci's compulsion to confess his petty wrongdoings, rigorously following the forms of Catholicism if not the substance and Rosende's affection for the streets and character of Montevideo's Old Town.
Crocodile Tears has been newly translated into English by Tim Gutteridge, and his work is admirably seamless. Montevideo-based Rosende is a lawyer and journalist whose short stories and novels, including this one, have won numerous prizes.
Also see Sergio Olguin's The Fragility of Bodies, set in Argentina, or How to be Nowhere by Tim MacGabhann.
Bitter Lemon Press
Print/Kindle
£5.69
CFL Rating: 4 Stars