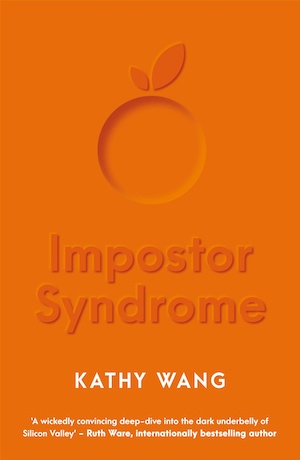 In this digital age, how secure is our personal data? In her first crime novel, Kathy Wang takes inspiration from her own experience as well as real-life stories about data breaches and industrial espionage in the tech sector. In Impostor Syndrome, she has created a corporate spy thriller which cuts uncomfortably close to our current reality.
Julia Lerner is the COO of Tangerine, a big technology company specialising in social media. She's the quintessential wonder woman who has a prestigious career while also being a devoted wife and mother – a role model to many. But Julia isn't all she seems to be. Her career path, marriage and position in society were carefully planned and constructed by Russian intelligence.
Twelve years ago in Moscow, Julia was recruited by Leo Guskov, the man who would become her handler. A recent university graduate, Julia was the perfect candidate to be groomed as a tech industry insider. With the Russians working things in her favour, Julia has grown used to living the American Dream. But then 'uncle' Leo comes knocking with new demands from Mother Russia.
He wants her to dig up dirt on other Silicon Valley operators by sharing user data captured on Tangerine's social network. Giving away users' messages, browsing history and location information is a blatant breach of company policy but Julia feels she deserves her lifestyle and, despite the risks involved, is not ready to give it up. Using executive privilege, she harvests the data from Tangerine's servers. What she doesn't take into account is that a perceptive member of tech support might notice the unusual server activity.
Enter junior analyst Alice Lu of said technical support team. She's overqualified for her position but took it in order to stay with her boyfriend Jimmy Chiang. To add insult to injury, Jimmy dumped her soon afterwards, leaving her with a two-bedroom apartment she couldn't afford. To help with the rent, her cousin Cheri – a beautiful, half-white, Bay Area socialite – moved in.
Working late one evening, Alice detects unusually high activity on one of the servers. The user name is unknown and the device unregistered. However, Alice knows how to use the system's 'god mode' via which she sees the password entered belongs to her uber-boss, Julia Lerner. The question is, should Alice blow the whistle on Julia, who is exporting user data against company policy?
Kathy Wang uses Impostor Syndrome to tackle various issues in society and in the tech industry. Through Alice she highlights the way women, particularly women of colour, are treated in the Silicon Valley ecosystem. Alice sacrifices her job for a lower-paying one for the sake of a relationship. Her boss, Tara, goes out of her way to hamper Alice's career development and criticises her for not being a 'cultural fit'.
Ironically, a lot of the discrimination taking place in the novel is at the hands of women. For example, Julia hardly notices the people of colour on her staff since they are not on her level. To her they are "…dark-haired grunts who made the company's wheels turn." When she learns of Alice she refers to her as "…one of the zillion Asian nerds who dotted Tangerine's landscape."
Alice is the more likeable of the main characters and you'll sympathise with her challenging circumstances. Julia, on the other hand, uses her image as a mother to manipulate and garner support and sympathy. She appears to be pro-women but sabotages the careers of other females and claims there's not enough oxygen for more than one female executive in the company. Being abandoned by her own mother at an orphanage and groomed by Russian intelligence provides an interesting back story, but ultimately it's difficult to warm to Julia.
It feels as though Impostor Syndrome, as the title suggests, tries to be too many things. It's not quite suspenseful or action-packed enough to be a spy thriller or critical enough for dark satire. It may leave you in limbo, not quite sure what to expect. The unfair treatment of women and people of colour in the workplace, whether it's in a tech environment or any other, is a relevant and important theme, as is Wang's depiction of corporate America and workplace politics. Particularly relatable are the references to corporate buzzwords. 'Empowerment', 'awareness' – what do they really mean when the real aim is to make money? Wang accentuates the superficiality of the corporate environment and the hoops employees have to jump through to fit in with the work culture.
Superpowers meddling in the affairs of other countries has been a major topic of late (also see The Krubera Conspiracy). Espionage in the tech industry, as depicted, isn't at all far-fetched. Kathy Wang lives in the Bay Area and has worked for Intel and Seagate. Her familiarity with the Valley setting shines through in this unsettling and enjoyable spy drama. It's an intriguing glimpse into the tech industry which might make you a bit more hesitant about what you share online…
Also see our review of Cover Story by Susan Rigetti, a former Uber employee and whistleblower.
Verve Books
Print/Kindle/iBook
£8.99
CFL Rating: 3 Stars