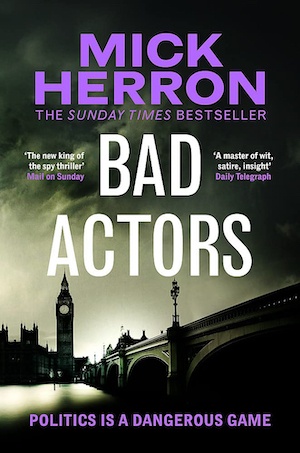 Now in the eighth book in the Slough House series, British espionage author Mick Herron continues to kill off his collection of failed spies one at a time, replacing them with new ones. And it seems the MI5 overlords at Regent's Park have no shortage of spooks they want to shuffle across to Slough House, where their relegated spies work for the loose cannon Jackson Lamb.
In the last book, entitled Slough House, a key player in Lamb's team died and their replacement is the fiery Ashley Khan. It was a brave move to kill off the character we're referring to. This person had been there from the beginning, was loved on the page and in AppleTV's recent adaptation of Slow Horses, and was certainly the emotional core of the series.
For her part Khan has arrived at Slough House as punishment for failing in a tail job for Diana Taverner – AKA Lady Di behind her back and First Desk at MI5. It was Lamb she was tailing, and he spotted her and broke her arm. For all this Khan blames Lamb rather than Tavener, and her ongoing attempts to poison him form one of several running gags through Bad Actors. The final pay off had me in tears.
Jackson Lamb is the rude, slovenly, but highly dangerous head of Slough House, and other returning characters include Louisa Guy (please Mick, if you're reading this, leave her alone), Shirley Dander (excommunicated for anger management and substance misuse), Lech Wicinski (perhaps the only underdeveloped character in the series), Roddy Ho, Catherine Standish and Peter Judd (a corrupt, self-serving, behind-the-scenes power broker).
In Bad Actors a relatively new and minor character, Sparrow, takes centre stage. He's the prime minister's special advisor and enforcer, and the true power behind the throne. He's also a keen blogger so if you follow British politics you'll have a good idea of who inspired him. Of course it's not enough to be running the Number 10 operation, Sparrow wants a tame secret service, and he thinks the disappearance of his super forecaster Dr Sophie de Greer gives him a chance to achieve this. Sparrow arranges for Charlie Whelan, a predecessor of Lady Di in the Regent's Park hot seat, to investigate the possibility she has been taken off the board by MI5, whilst at the same time leaking the news to the public.
As a result, the Red Queen protocol is implemented, which entails the suspension of First Desk, placing the secret services under the temporary control of another branch of the civil service. Lady Di Taverner has no choice but to go dark, not just to save her own neck, which is of course paramount, but also to preserve the independence of the secret service. In an inventive touch, just one of many, Herron has her avoiding capture on the rooftop garden of a Soho wine bar.
Of course, nothing in the Slough House world is so straightforward, and de Greer is anything but an innocent party. To say much more would be spoiling things, but for once Taverner and Lamb find themselves in an uneasy alliance.
Herron has dialled back a little from the heartbreak of previous books in favour of a more overtly comic formulation. His unique, wry humour has always been present in the series of course, whether it be satire or the more outrageous insults that are Lamb's forté, but Bad Actors is more a comic novel than a spy novel with comic moments. Perhaps the decision is a reaction to how real life has been in Britain over the last couple of years. That's not to say there aren't more serious moments; Shirley Dander in rehab is ripe for comic exploration, but Herron also finds pathos in her situation.
Bad Actors is a slight departure from the norm in the Slough House series, but it definitely delivers another triumph in one of the strongest crime series of the last decade.
The Slough House series is full of hit novels and we've previously reviewed Slow Horses, Real Tigers, London Rules, Joe Country and more.
Baskerville/Soho Press
Print/Kindle/iBook
£9.99
CFL Rating: 5 Stars