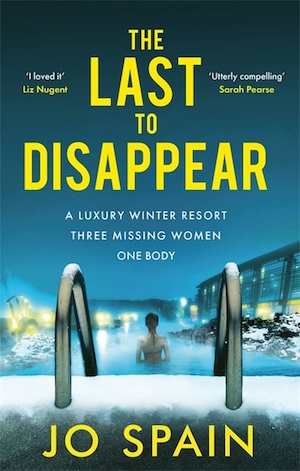 Jo Spain's fingers have been on fire since her first novel in 2015. There's the highly rated Tom Reynolds series, a clutch of clever standalones, several screenwriting projects (Taken Down and Harry Wild) and now a new international mystery. The Last to Disappear is set in the the north of Finland up in the Arctic circle. Koppe is a picture postcard village, an exclusive Lapland winter resort. However, Brit Alex Evans is about to discover that this isn't just a Christmas wonderland for rich tourists… Koppe has a very dark side.
The scene is set on 1 November 2019, just outside the town. A young woman is desperate, her fear growing as adrenalin floods her system. It's deathly cold in the water. She's bleeding and in pain. A shadowy figure walks away as she slips beneath the surface.
The following month, in London, Alex Evans is contemplating going home to his parents for Christmas with a little trepidation. He should call Vicky in Finland to make sure she's there too. His parents don't exactly approve of his career as a lobbyist representing private healthcare clients and firms looking for angles to make money out of Brexit. Then his Dad calls.
Alex's mother has had a heart attack so he scoots home urgently. By the time he arrives she is stable but his father has been hiding something else. Vicky is dead and they want Alex to go to Koppe and bring her body back to England.
Back in Koppe, Agatha Koskinen is dealing with the dead woman found by a fisherman. Although Vicky was drowned there's evidence of a blow to the head. Agatha has to collect Alex at the airport and tell him what she thinks really happened. The body can't go home yet. Local gossip says that the main suspect was a tourist who has already returned to America.
Alex, used to getting his own way, doesn't believe a police chief with a couple of yokel cops can solve a murder. He decides to mount his own investigation and that sets him at odds with Agatha, who is quietly going about her job.
Then it emerges that Vicky is not the only woman to have gone missing in this little enclave over the years. The people she worked with in the holiday industry, some of the locals and other visitors become suspects as the net widens. Even Vicky's best friend Niahm has her secrets and there are things about Vicky that Alex didn't know. What happened to Hilda and Kaya in the past becomes another focus of the investigation. Were these women murdered? If so, are the crimes connected to Vicky? Is Agatha in over her head?
There are lots of cold climate thrillers out there set everywhere from Alaska to France to Siberia, not forgetting Scandinavia. However, Irish author Jo Spain manages to make her mark in Finland, a place slightly less explored. This is not for fans of dark Nordic noir. The Last to Disappear is lighter in tone and yet makes a lot of the cold, brooding atmosphere. If you want a blend of the exotic and familiar, this is it. Spain is a born storyteller and the strands of this tale coalesce neatly. Three missing women, each a story in their own right and together they make a whole piece, the characters are well drawn.
There's plenty of tension and a decent twist or two. The idea of subverting Lapland's usual portrayal is fun, swapping reindeer and snowmobiles for a killer, or maybe killers. Holiday destinations like their shiny image but the Arctic is a dangerous place, perfect for murderous speculation.
If The Last to Disappear is intended to be a series it's well set up and we'd be on board with that. Agatha is a likeable young mother who is underestimated because she's a small town cop but she has a quiet power and intelligence. Alex isn't particularly likeable, he doesn't entirely like himself, but this will be the making or the breaking of him. Spain uses pleasurable, subtle humour and her occasional digs at patriarchy, Brexit and capitalism add a nice undertone to the novel. An enjoyable and smooth read.
Also see Cry Wolf by Hans Rosenfeldt.
Quercus
Print/Kindle/iBook
£7.99
CFL Rating: 4 Stars