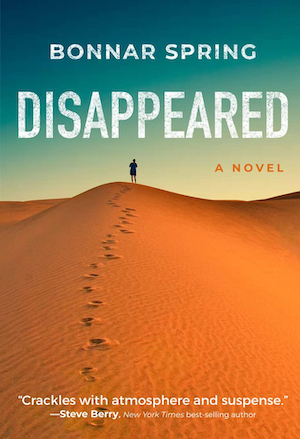 What makes the Morocco setting of Bonnar Spring's new international thriller Disappeared so exciting is the heady combination of romance and menace. American sisters Julie and Fay, both adults and married, are on their annual girls' getaway. Fay suggested Morocco this time. In fact, she insisted upon it. When they arrive in the small city of Ouarzazate, she slips away with a strange man on a mysterious errand. She leaves Julie a note explaining that she's visiting a distant village, she cannot say why, and will be back in two days. But the two fretful days pass, and she doesn't return.
Julie vacillates between anger at Fay for having a hidden agenda for the trip and worrying herself sick. With no help from the American consulate, and with the barest clues to go on, not even the name of the village, she sets out to find her sister. You know from the outset that neither Fay's nor Julie's trip will be anything at all like the safe and familiar experience of visiting a village in, say, Kent.
Ouarzazate is not only the filmmaking capital of Morocco, it's the gateway to the Sahara. The region is on the opposite side of the Atlas Mountains from the more cosmopolitan cities of Marrakesh, Casablanca and Rabat. It's back of beyond country. Julie recognises the numerous perils of being a woman alone in Morocco's southern and rural areas, where women are typically veiled and isolated. Fortunately, she speaks French and can find people who do, but are they being helpful? Are the directions they give her accurate? Can she trust the guide they've provided to take her over the mountains?
All told, it's a difficult journey, and along the way she meets people she can trust, as well as those she cannot. More than once, she has no choice but to put herself in their hands, trust or no trust. Eventually, she discovers Fay has fallen into a situation much more complicated and perilous than either sister could possibly have imagined. Two Moroccan women and a small child are also involved. The police and military are determined to hold onto all of them and transport them to a prison in the far south, where they will never be heard from again. They will be truly disappeared.
In a testament to author Bonnar Spring's ingenuity, the characters have to draw on every resource they have, however feeble. Tensions are heightened by Julie's wonky heart, which beats dangerously erratically when she's under stress. Only a daily dose of a beta-blocker can keep her conscious, and that drug is in short supply.
Spring has done a remarkable job conjuring both the threat posed by the pursuers and the dangers inherent in the remote countryside itself. Deserts, inhospitable mountains, black sands, heat. Even if no one were after them, Julie and her companions would be hard-pressed to survive. Spring also describes the markets, the food and the local way of life, which brings the story into sharp focus. You feel as if you are really there – minus the turned ankles, the shortage of food and the need of a bath.
Add to that the lack of safeguards. A woman lost in Britain or the US can, for the most part, rely on local constabularies, social norms, churches, charitable institutions and friendly strangers for help. But these resources simply do not exist for Spring's characters. In their situation, the rules are different and even family may prove unreliable. Despite a national population of some 36 million people, the women are profoundly alone.
Spring is an experienced traveler – she set her debut, Toward the Light, in Guatemala – and it shows in her acute eye for detail. If you are a fan of compelling international adventures, Disappeard will more than fit the bill.
And, you can take a jollier trip to Morocco, as another woman named Julia seeks her missing cousin in Ann Bridge's The Lighthearted Quest.
Oceanview Publishing
Print, Kindle
£11.43
CFL Rating: 5 Stars