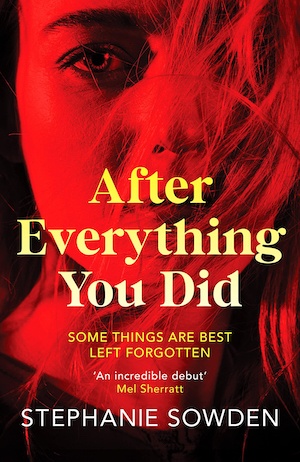 Crime fiction land is awash with whodunnits, but whydunnits are a little thinner on the ground. Time to swell those sparse ranks with this gripping and original debut novel by Manchester author Stephanie Sowden.
The setting couldn't be much further away from Sowden's home city though. The year is 1966 when a young woman regains consciousness in hospital somewhere in small town America. She is handcuffed to the bed, face swaddled in bandages, her whole body in pain. Where is she and what's happened? These two questions are the first in what is destined to become a long, long list.
It soon becomes clear that this woman is in a mountain of trouble. Two FBI agents are sitting at her bedside and they have plenty to tell Reeta – because that is her name, although she can't recall it or her surname, so Reeta Doe it is. She claims to have retrograde amnesia, something which the Feds scoff at, because Reeta is a shoo in for the brutal murders of four women, and when she was dragged out of her crashed car there was another young female in the boot, her head stoved in, barely alive. Reeta losing her memory seems a tad convenient.
But the more we get to know this woman, the more we begin to realise that she really is telling the truth. Agents Willow and Stephens try their damndest to break the facade but Reeta stands firm against an ever-swelling tide of evidence against her. She. Can't. Remember.
So the scene is set for an interesting take on the serial killer trope, with Reeta coming to realise that she can't battle the inevitable. She's resigned to her fate – but just what brought her to this pretty pass in the first place? Ah, that's where things get REALLY interesting!
Running out of ways to unlock Reeta's memory, Willow and Stephens are getting desperate. So desperate that Willow enlists the help of Washington Post journalist Carol Joyce. Carol has written a puff piece about the case and Reeta agrees to meet her in her Florida prison. From an inauspicious start, a grudging friendship begins to blossom between the two women, both of whom have chequered pasts. Carol, with a black father and a white mother, has always struggled to be accepted; Reeta, on the other hand, was brought up inside a shadowy religious cult, under the control of the charismatic Brother Jeb – a man who is not all that he might seem (you have been warned).
Little by little, Sowden drip feeds the reader the teeny seeds of knowledge that will eventually grow into a full blown revelation. It is twisted, unexpected and cleverly wrought approach, and serves to keep you guessing right to the very end.
After Everything You Did is an assured piece of writing which niftily conjures up the 1960s, with the ingrained prejudices, headline-grabbing scandals, misogyny and sexism. Sowden pulls no punches, and as a result the book feels both realistic and somewhat shocking to a modern-day crime fiction fan. All of the characters walk boldly off the page, and the author shows an uncanny ear for dialogue. She might be British, but her creations are American through and through.
It takes consummate skill to create a likeable serial killer but Sowden hits the mark perfectly. Reeta has done some truly terrible things in her life, but still you want to reach in and give her a hug to tell her things will be all right. She's lost and confused, but inside Reeta is a steely resolve – and she is going to need it as life conspires to kick her in the face again and again. With her knack of keeping the reader wrong-footed throughout, Stephanie Sowden has thrown her hat into the ring and no mistake. What a debut! I can't wait to see what this writer comes up with next.
Memory loss has a big part to play in Murder, Forgotten by Deb Richardson-Moore. And for another excellent read set in 1960s America check out One-Shot Harry by Gary Phillips.
Canelo Crime
Print/Kindle/iBook
£2.99
CFL Rating: 5 Stars