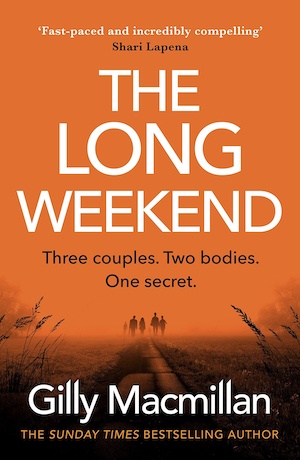 Three couples plan a weekend away together in the depths of Northumberland. One by one, the guys cry off, promising to come the following day – leaving Ruth, Jayne and Emily to make the long journey north to Dark Fell Barn together.
Their three husbands have been friends since school, but the women aren't that close and the long car trip is punctuated by awkward silences. Ruth is a new mother and already missing her baby son; Jayne is the practical one, who organised the trip and who is determined to make the best of things; while Emily is youngest of the trio and feels she has little in common with her companions. It's going to be a long and less than companionable journey.
Meanwhile, over at Dark Fell Barn, John and Maggie Elliott are making everything perfect for their soon-to-arrive guests. The barn is part of their farm, and Maggie sees it as a way to make much-needed income now that her beloved husband is showing clear signs of dementia. As they carefully drive up the rutted track to the barn, the Elliotts are surprised by the appearance of a motorcyclist.
He's a bike messenger, and he has a package which is about to cause all manner of ructions… The couple open the box, which contains an envelope addressed to the weekend's guests, and a beautifully wrapped parcel. There is also a note giving strict instructions as to where they are to be displayed. When Ruth, Jayne and Emily eventually arrive at the isolated spot, they excitedly open the note. It's from Edie, another member of their partners' school gang, who is recently widowed and declined to come along for the getaway. Her words are chilling… "by the time you read this, I will have killed one of your husbands".
Is it for real? Edie has form for creating elaborate hoaxes, is this another one of her so-called 'jokes"? Are their husbands in danger, or in on the ruse? As the light begins to fade and a big storm brews in the hills surrounding their remote cottage, the three women are panicking big time and beginning to rue ever agreeing to this trip. They have no mobile phone signal and the nearest help, in the form of the Elliots, is a difficult walk away in ever-worsening weather conditions. What to do next? Whereas you and I might sit the storm out, in true crime fiction tradition, the trio does no such thing. And when they emerge from their place of safety, it becomes clear that someone is trying to scare them off. It's working.
Meanwhile, back home, Edie's daughter Imogen needs collecting from music camp. She is still grieving the death of her father and needs handling with kid gloves. It's an unforeseen kink in some well-laid plans and destined to create all manner of difficulties… The plot thickens.
Several years ago, Gilly Macmillan featured in a CFL list of female authors to watch – and on this evidence it is easy to see why. On the face of it The Long Weekend treads some well-worn plot paths, but Macmillan is adept at letting the reader settle into a steady stride, then tripping them up when it is least expected. Don't take things at face value, that's all I'm going to say.
The dark and unsettling landscape plays out well as this tale unfolds, catches on a bramble, rips and then unravels itself into another pattern. Throughout it all there is a constant feeling of foreboding, and even though the majority of the characters featured here are not very likeable, nevertheless Macmillan manages to keep us rooting for them – no mean feat.
Although you may experience the odd feeling of deja vu while reading this book, on the whole it hits the target. Weekends away may be few and far between these days but after reading The Long Weekend I think Im quite happy to stay at home and safe for a little while longer, thank you.
For more weekend break shenanigans, try The River at Night by Erica Ferencik. Or see One by One by Ruth Ware.
Century
Print/Kindle/iBook
£5.99
CFL Rating: 4 Stars