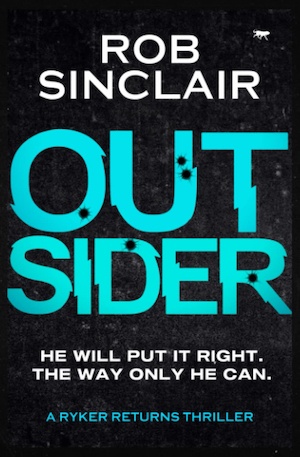 A Ryker Returns Thriller. As far as we are concerned Ryker can keep returning, as long as the thrills and spills match the excitement generated in Outsider, that is. This is an entertaining action thriller with plenty of fireworks, an enigmatic lone wolf hero with a past and some seriously nasty bad guys. The plot is straightforward but nonetheless has a twist or two, adding to the fun factor.
The novel opens in Prague and Ryker is getting ready to leave his girlfriend Simona. She doesn't understand – it's clear he likes her and she wants him stay. However, he knows she's in danger if he hangs around. It has to be this way.
Meanwhile, in the small town of Blodstein, near Trondheim in Norway, Sigard Berg is taking care of a problem in the middle of the night. He's loading heavy barrels onto a boat in order to dump them at sea. As luck would have it, one of his workers passes the harbour warehouse on the way home from a night out and Berg has to deflect him with a story about catching up on paperwork.
Hours later the job is finally done and he's home just before daylight. As he arrives, his wife is leaving for the day. She's another problem for Berg – he's convinced Isabell is having an affair and has a private detective following her. His day gets worse though because two men are waiting for him when he arrives at his office. They are Russians, they work for Mr Jesper and they want to offer Berg a business opportunity. He sends them away but he knows these aren't the kind of people who take no for an answer.
That's the day Ryker arrives on the ferry to Trondheim, hires a Volvo and points north, heading for who knows where. Suddenly there's a moped coming at him around in the middle of the deserted road. He avoids it but the bike upends and the cyclist goes flying. Mercifully Henrik – no more than 15 – only has cuts and bruises. The teenager seems anxious to get away again when they hear a siren.
A portly police officer says he'll look after Henrik, take him home, but there's a fearful look on the boy's face that bothers Ryker. Ryker is told to move on. A pickup truck with two heavies takes the bike and follows the cop back to Blodstein. Ryker can't shake the feeling something is going on, so he also follows the cop. When he loses him he decides to poke around in town for a while to find the boy.
Ryker's presence soon attracts attention, at first polite, but soon escalating into hostility. Berg's story, Henrik's disappearance, the shifty cop and the Russian gangsters are all soon on Ryker's radar. Finding the boy isn't easy and he's going to need a friend because his interference is rapidly moving his demise to the top of a lot of people's to do lists.
You may sense from the above that Ryker is Reacheresque, but he's no mere copy of the ex-military policeman-come-avenger. An ex-spy, he's complex and difficult to fathom. There are hints that underneath his no nonsense facade there's is a man looking for some peace in his life. Maybe even the chance to settle down. He attracts women but he's no James Bond style user and he's haunted by the memory of his relationship with his ex-colleague Sam Moreno. It was for her that he first went on the run when he left the service because the past had caught up with them. In any case he can't walk away from a wrong being done, from a fight or a chance to do the right thing.
Henrik's tale has a neat little twist as the strands of the story come together well. This is a proper page turner, a fast and exciting read, but it's also an action thriller with a little heart. More of the same, please.
Also see our reviews of the Jack Reacher books, or the Lori Anderson novels by Steph Broadribb.
Bloodhound Books
Print/Kindle
£9.99
CFL Rating: 4 Stars