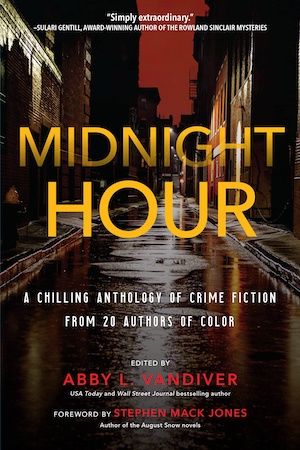 Edited by Abby L Vandiver — Abby L Vandiver is the bestselling author of more than 25 books and short stories and in Midnight Hour she has assembled stories by writers of colour with one common theme – the events taking place in each occurs around midnight. There's something for everyone: love triangles, revenge, heists, closed circle mysteries, exposed family secrets, serial killers, ritual killings and even cyber crime.
In Lucky Thirteen by Tracy Clark a 62-year-old man is the victim of a home invasion. What the unscrupulous burglar doesn't realise is that Henry Pearse has a dark past and there's an unsettling story behind the collection of clocks on his mantlepiece. They're all stuck on midnight and soon another one will join them.
Author of the much-acclaimed Winter Counts, David Heska Wanbli Weiden, takes us back to the Rosebud reservation and its main character Virgil in Skin. As a favour to Charley, an attorney who regularly helped people on the reservation, Virgil agrees to steal a valuable book from a school. The History of Christianity, printed in 1779, has a gruesome back story which, along with the reference to the boarding schools Native children were consigned to, highlights the discrimination and unfair treatment of Native Americans.
Richie Narvaez's Doc's at midnight recounts the tragic story of Romeo and Juliet, or West Side Story if you prefer, in a tale of the two star-crossed lovers, Chino and Maria. Decades earlier Chino killed Maria's lover, a man from a rival gang, because he wanted to prove his love for her. Now Maria is being blackmailed and Chino, who still loves her after all these years, wants to make up for the pain he's caused, even though it's futile.
Inspired by Edward Hopper's painting Nighthawks the story of the same name by Frankie Y Bailey tells of a group of strangers who all end up at the Crossroads Diner around midnight. When a masked gunman attempts to burgle the diner, events take a tragic turn. Set in 1949, Nighthawks shows the prevalent racial prejudice when the witnesses to the burglary, without any evidence, all agree that the gunman was black, purely based on the way he spoke. Jo, a country nurse who ends up at the diner after she avoided hitting a deer and ran off the road, is the only person who believes the attacker was white. The isolated incident turns into an intriguing detective mystery when, one by one, the characters' identities and secrets are unravelled by Jo, the outsider.
The classic locked room mystery finds its home in the Cape May Murders by Tina Kashian. Mr Smith, the proprietor of a house a group of people are staying in, is found dead at the bottom of a flight of stairs and the police secure the scene, allowing no one in or out of the house. It's up to the remaining inhabitants to figure out who the killer in their midst is.
In The Vermeer Conspiracy by VM Burns forensic art investigator and detective, Jasper Bland, comes face to face with August Merriweather, the influential man who ruined his career as an artist 35 years earlier. At last Jasper is given the opportunity to take his revenge, but will he be able to do it without getting caught himself? A clever story with the art world as its backdrop, including the essential art heist.
H-C Chan's Murder's Feast is a sinister tale about an exclusive retreat for venture capitalists hosted by a notorious techpreneur. What starts off as a gourmet event in true pretentious foodie style turns into a much darker feast with hints of Lord of the Flies thrown in.
Change of Plans is a warning for all those of us who love to plan our lives to a tee. Elizabeth Wilkerson's story starts off innocently with Kamilah, a young, slightly perfectionist and obsessive woman who is spending her New Year organising her planner for the coming year. She finds the perfect layout for a journal online; there is just one change the designer needs to make for her, and another, and another. What follows is something anyone who works in tech support will revel in.
Lastly, the editor of this anthology, Abby L Vandiver, gives us a glimpse into the thoughts of someone who is planning a murder. On the surface it appears as if the narrator is being manipulated into committing a crime, possibly a crime of passion. But are our assumptions correct?
It's rare to find a collection of short stories where each one included is readable, entertaining and hits the spot perfectly. Difficult as it may seem, Midnight Hour is such an anthology. Even if you, like me, prefer your crime fiction novels thick, engrossing and part of a series, this is the perfect palate cleaner to refresh and rekindle your love for crime fiction. Highly recommended, especially for the holidays around the corner.
Also see The Best American Mystery and Suspense 2021 – the editors have endeavoured to improve the diversity of authors featured
Crooked Lane Books
Print/Kindle/iBook
£14.99
CFL Rating: 5 Stars
Purchase from Bookshop.org to support independent bookshops.