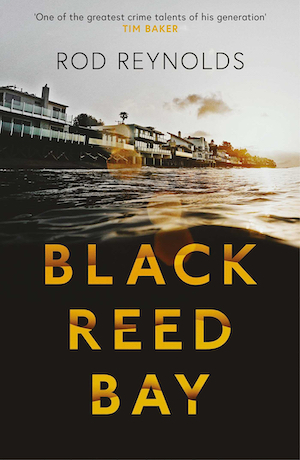 Following last year's gripping Blood Red City, a contemporary financial thriller set in London's Square Mile, British writer Rod Reynolds has returned to the setting of his earlier novels, the United States. You may remember his post war trilogy which opened with The Dark Inside set in Texarkana in 1946 featuring journalist Charlie Yates. The series was a blend of real and fictional events and people, a motif in Reynolds work. The immediate post war American landscape and the dialogue was wholly convincing. In Black Reed Bay he repeats this skilful interweaving of reality and fiction by basing his story on the case of the Long Island Serial Killer. As such, the book is set in the Hamptons in New York State, and the themes are contemporary.
The story opens with a haunting prologue. We see several of the main characters in the aftermath of something terrible. Of course, we don't know what that is yet but it establishes the tension in the story early – not just the traumatic events but the edgy relationships between character. It's a thought provoking way into the mystery of the novel.
Six weeks prior to that beach scene, Detective David Cullen and Detective Sergeant Casey Wray are kicking over the office gossip while driving to work. Cullen seems to feel the weight of his family responsibilities like he's missing out. He pumps Casey for information on the party the night before – who did what and who fancies the newbie detective Billy D Cullen. He implies that Casey might be one of Billy's fans, she gives him short shrift. Clearly these two are used to bantering. When they get to the office, Captain Robbie McTeague is in with Lieutenant Ray Carletti. McTeague hasn't been around these parts in a long time but there's history between him and them. Is someone in the department in trouble, is he spying for the DA? The office politics play into the investigation that's about to kick off.
Cullen and Casey are sent to Ramona Villas on one of the barrier islands running parallel to Long Island's south shore in the jurisdiction of the Hampstead County Police Department. At 4:15am, a 911 call came in from a distressed woman claiming she's on the run and being hunted by an unidentified man. She gave her location as Barton Beach. However, her phone's position was actually near Ramona Beach and this discrepancy gives the detectives a lead.
There's no sign of her when the squad car turns up. Later the neighbours say they saw the woman, upset, incoherent, knocking on doors before running off. As the search expands there's still no sign of the woman. Now they have a name: Tina Grace. She was at the house of a local resident, a guy by the name of Parker. He says she isn't his girlfriend, they're just casual and he can't say how she got to Ramona or what happened to her. They had sex and later she suddenly ran off. He says he followed her but couldn't find her. They had a couple of beers, there were no drugs, she gave no explanation.
Casey is sure Parker is lying but about what exactly? Parker grudgingly allows the police to search his place but they don't find anything. The detectives are suspicious but this doesn't feel like a domestic incident. It turns out Tina has a boyfriend in Rockport, Brian Walton. He admits they argued but not about anything serious. So Parker and Walton are suspects but there's also a mysterious car spotted at the scene that the police want to trace. A mysterious phone call of screaming women taunts the police. When they do find a body on the beach – just the first in this story – it's not Tina Grace. They have stumbled across a dumping ground for a serial killer. Is Tina the latest victim?
There's a steady, considered pace to Black Reed Bay and some readers may find it slow going. However, it does leave plenty of time for the horrifying details to sink in and a sense of anticipation to develop. The blend of fact and fiction is well handled. The case that inspired him involved a real serial killer with real victims on Long Island and Reynolds respects that. Occasionally, the weight of real events is overwhelming, but he successfully uses facts and suppositions about the Long Island Serial Killer and carries them into his fictional murder mystery, building atmosphere and underpinning the themes of the novel.
Black Reed Bay is the opener for a new series and Casey Wray is a strong character. It's easy to see the opportunities to take her further. Reynolds has created a thought-provoking mystery and clearly he gets the office politics and personal tensions of a major case. It would be interesting to see what American readers make of Black Reed Bay.
True crime inspired the recent Swedish TV show The Hunt for a Killer, as well as the novels The Long Drop by Denise Mina and Chasing the Boogeyman by Richard Chizmar.
Orenda Books
Print/Kindle/iBook
£3.79
CFL Rating 4 Stars