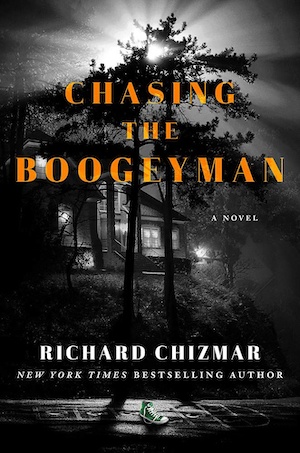 From the founder and publisher of Cemetery Dance Magazine, a publication specialising in horror and suspense, comes a spine-chilling story about a serial killer terrorising a small town in the state of Maryland. A metafictional retelling of events that took place in 1988, Chasing the Boogeyman is tinged with Stephen King-style horror, and indeed Richard Chizmar has worked closely with King on a number of projects.
So we turn the clock back to the summer of 1988 as the young Richard Chizmar returns to his hometown of Edgewood after finishing college. Although Richard is unsure of the direction his life will take, he knows two things for sure. One, he's getting married to his fiancée, Kara. Two, he wants to write crime fiction and horror novels. While Kara finishes college, Richard takes up residence in his old childhood bedroom to prepare for his wedding and attempt to launch his literary magazine.
However, Richard's lifelong interest in the macabre comes knocking on his parents' door when, three days before his arrival in town, a young girl is taken from her bedroom three blocks from where they live. When her body is discovered in the nearby woods at 10.07 the next morning, Richard's illusion of Edgewood as the idyllic town he grew up in is shattered. He knew Natasha Gallagher's family and went to school with her older brother, Joshua. The idea that someone has been killed a few streets away is surreal to him – like a nightmare.
Over the next four months, four more girls are murdered in the same way – their bodies posed, their left ears cut off. All of them were pretty and white, with long hair and from good families. The similarity between victims, the way they were killed, and the calling cards left with the bodies lead the police to the believe that a serial killer is on the loose.
Until the murders, crime in Edgewood was limited to assault and battery, drug-related offences or theft. Never before has it experienced anything as violent and unsettling. Yet the police can find no evidence at the crime scenes. It's as if the crimes have been perpetrated with superhuman precision. Curfews are enforced, a neighbourhood watch is formed, and teenage girls cut their hair in fear of being targeted by the faceless killer who is now being called The Ghost in the media.
The once peaceful community is saturated with paranoia and suspicion, trapped in a recurring nightmare. With everyone on edge, people grow distrustful of their neighbours, imagining strange, suspicious behaviour or looking for obvious scapegoats in anyone with a criminal history. Arguments turn into fights and the town becomes a powder keg ready to blow.
Curious by nature and interested in true crime, Richard fully immerses himself in the case, much to the frustration of the real detective, Lyle Harper. Richard starts asking questions around town with the assistance of Carly Albright, a local reporter and friend of his fiancée. Through her he gains invaluable inside information, a trusted friend and a partner in the investigation. The story of the chasing of the Boogey Man becomes Richard's own quest to make sense of the events.
But even Richard no longer feels safe. Someone keeps calling his parents' house, hanging up when they answer. When he and his childhood friend Jimmy run into a man wearing a white face mask while exploring the reputedly haunted Meyers' house, the reality of a serial killer on the loose truly hits home. As children they would retell stories around the campfire of the Rubberband Man who kidnapped children from playgrounds. The Boogeyman reaches the same urban legend status, and with the police unable to track him down, this terrifying slice of Edgewood mystery remains unsolved for many years.
Chasing the Boogeyman gives us a wonderful snapshot of a specific time and place, but it also tells of the loss of innocence of a small town. At one point, Richard even quotes Milton's Paradise Lost. More than this, the book is Richard's memoir – his own coming-of-age story about growing up in a working-class town in America. He pays homage to a simpler, more innocent time when children were still playing in the streets, adventurous and curious to explore. Richard is undeniably nostalgic about his childhood in Edgewood and this makes the town's people, history and stories all the more engaging.
Like all true crime books, Chasing the Boogeyman includes photographs of the crime scenes, evidence and profiles of persons of interest, which add both weight and realism. As you read, these artefacts may trigger questions of your own. The authenticity of Richard's retelling makes our commitment to the truth of the story effortless, but it also sets us up for a gut-wrenching blow in the finale. Combine all these things with a permeating sense of dread and a sinister undercurrent and you are left with a unique blend of horror, memoir and true crime.
Chasing the Boogeyman's chilling atmosphere, originality and slow burning yet suspenseful storyline will certainly catapult it to best-of lists for 2021. Highly recommended if you need something fresh and real.
For more true crime and true crime-style crime fiction try the latest from Joseph Knox, or anything by Matt Wesolowski.
Hodder & Stoughton
Print/Kindle/iBook
£9.99
CFL Rating: 5 Stars